Indulge in the splendour of Avaton's suites and villas which combine dramatic scenery, spacious volumes, trend-setting design and superlative service to epitomise luxury accommodation on Mykonos.
- Unique boutique hotel
- Famous infinity pool
- Suites and villa's
- Finest lookouts
- Fine dining
- The Avaton Spa
- Kokkino bar
- World-class fitness
- PADI instructors
- Watersport
- Free beach shuttle
The leading luxury hopitality experience on Mykonos
Formed in equal parts by the work of nature and the art of man, the Avaton is a luxury hotel of singular beauty, built into the bare rock high above Elia Beach, the longest fine sand beach on Mykonos. Dramatic double volumes, panoramic decks and private balconies offer truly exceptional views, yet Avaton is much more than a unique location. With exceptional design features, infinity pools, fine dining and a superb spa, it's where personalised service and absolute privacy are taken to another dimension, anticipating a guest's every wish. As a member of Design Hotels, Avaton is a true original, drawing on one family's island roots and a tradition distilled into the essence of genuine hospitality.
The Avaton is named after the sacred places of ancient Greece, inaccessible to all but the initiated, 'so perfect that no common foot may be set upon them'. A promise of the extraordinary that is fulfilled in every detail: here, discerning guests can strike the perfect lifestyle balance between going with the magical flow for which Mykonos is famous, and recharging in a haven of restorative luxury.
Gallery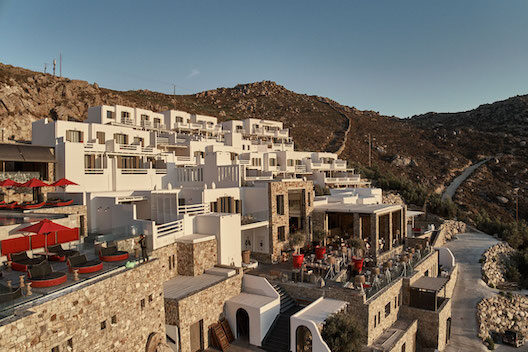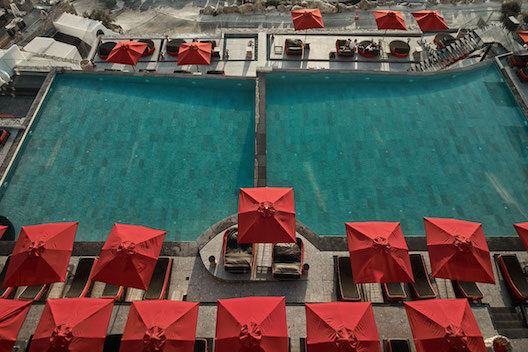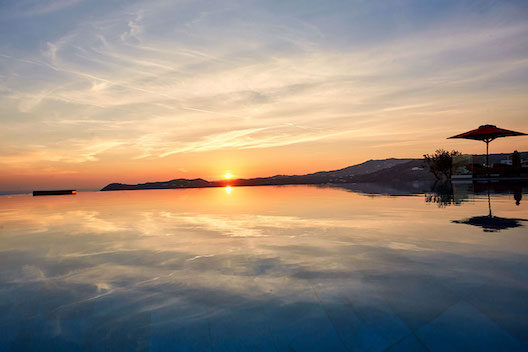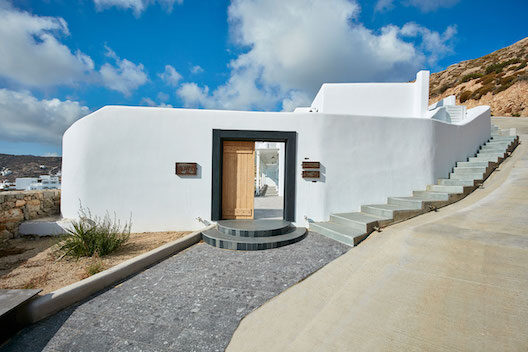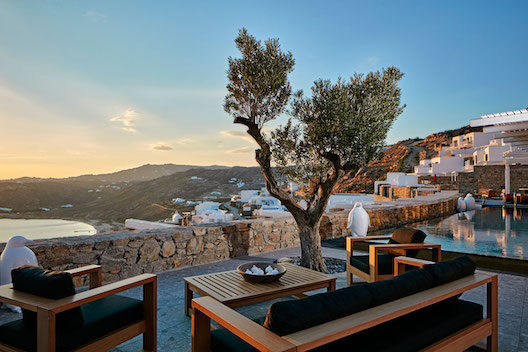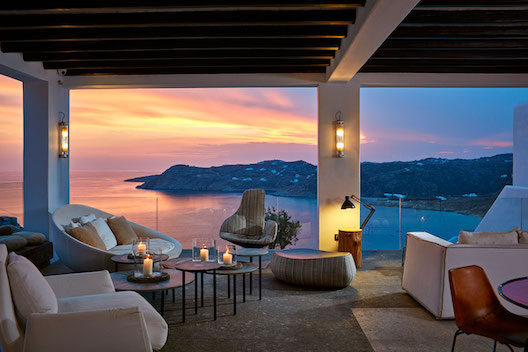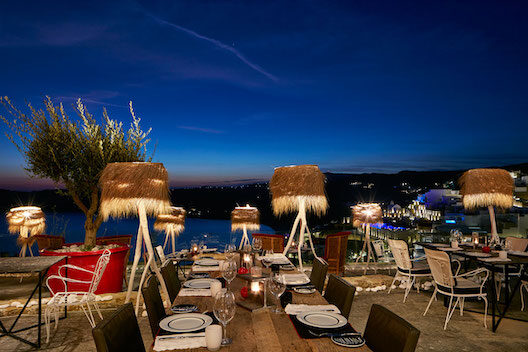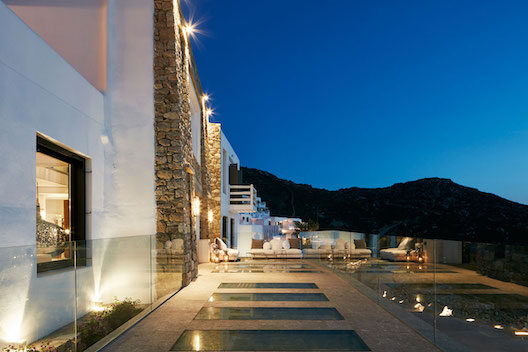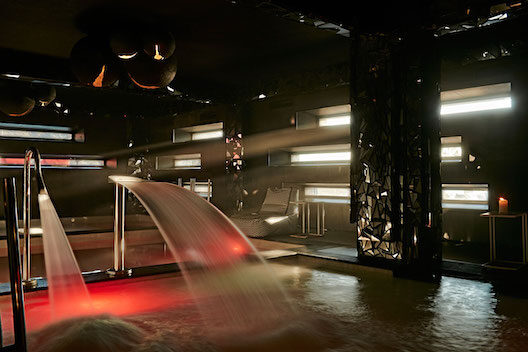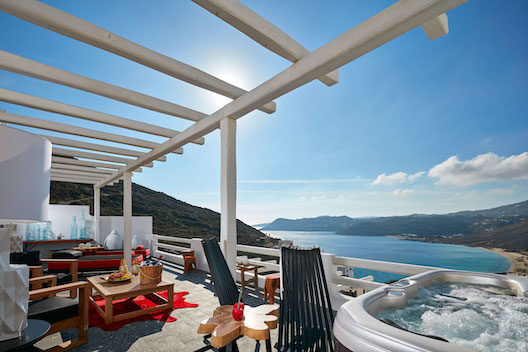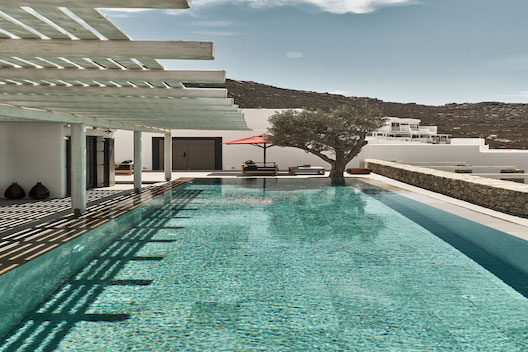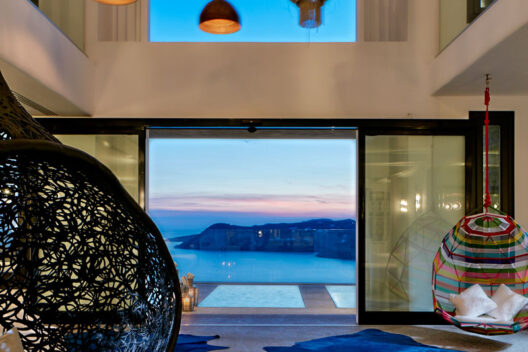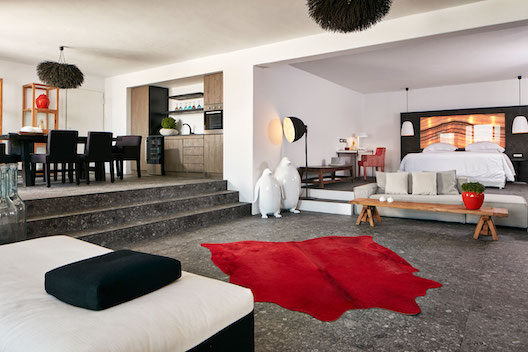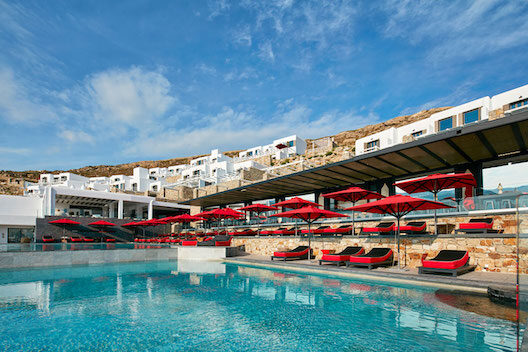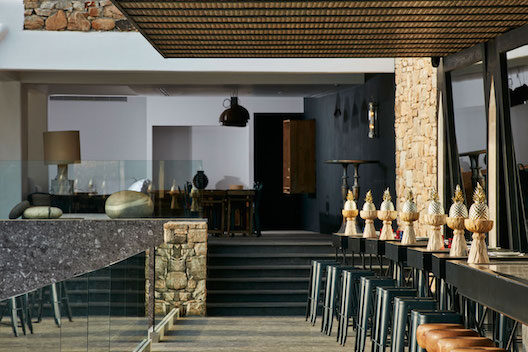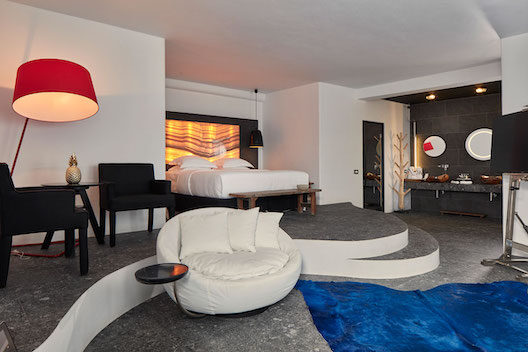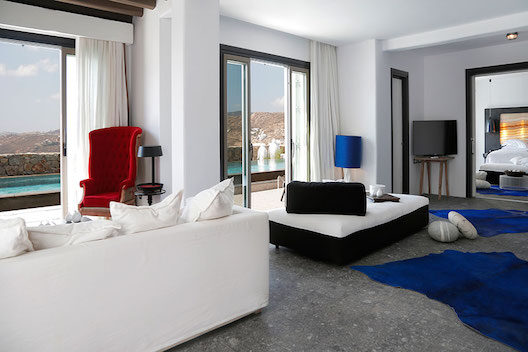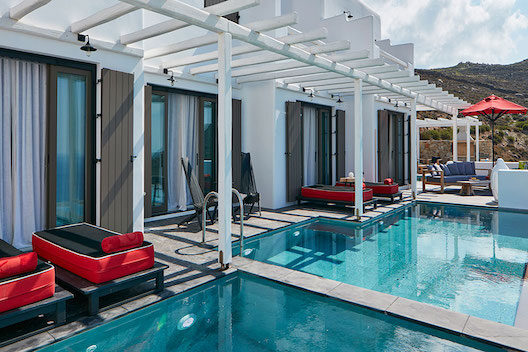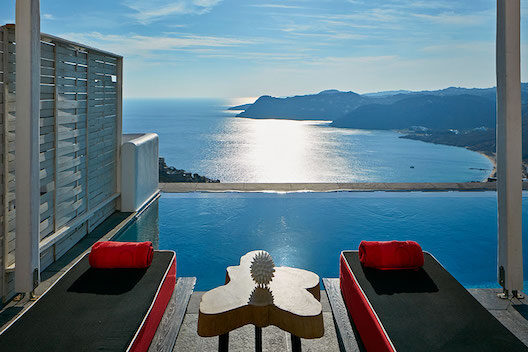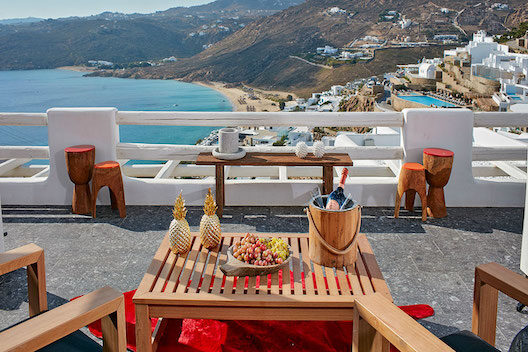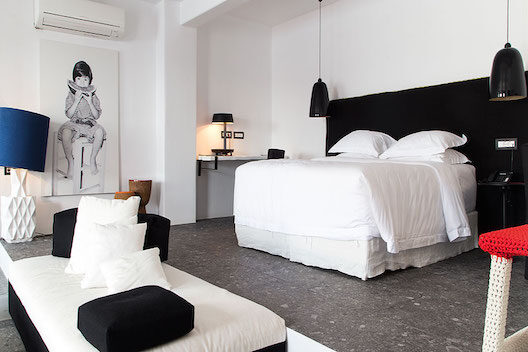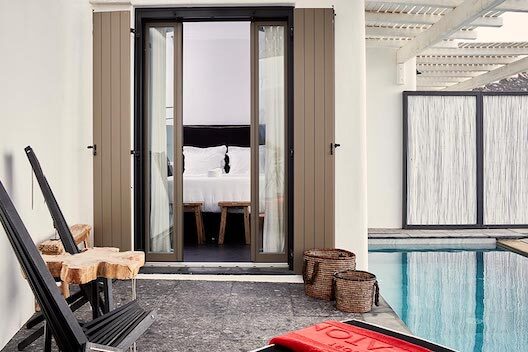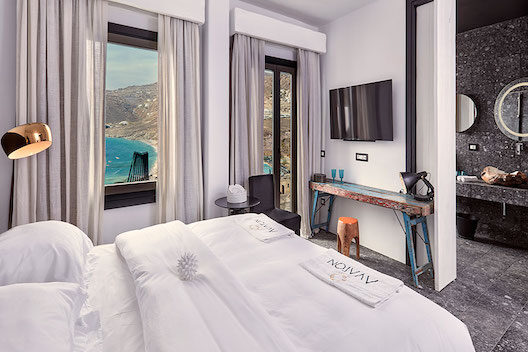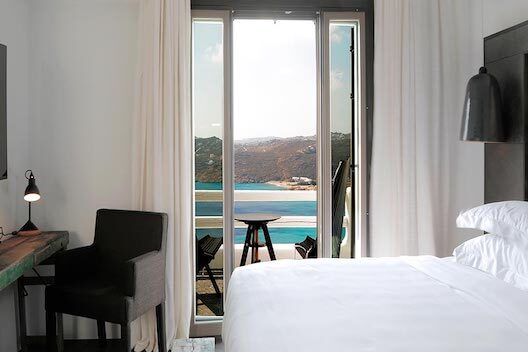 At a glance
Mykonos has long been one of the most desirable destinations in the Mediterranean. As a guest of Avaton, you'll enjoy the immediate proximity to one of the island's most beautiful beaches – that is if you can tear yourself away from one of its most famous infinity pools.
Indulge in the splendour of Avaton's suites and villas which combine dramatic scenery, spacious volumes, trend-setting design and superlative service to epitomise luxury accommodation on Mykonos. Design is cutting-edge, with eye-catchers such as agate wall features, iconic classics as well as bespoke furnishings, islands of soft white comfort, bathrooms with walk-in rain showers and custom-carved stone elements — all accented by flashes of the signature red.
A sense of privacy, comfort and unparalleled aesthetic pleasure is completed by the services of an attentive and discreet housekeeping staff. Yet the true essence of luxury lies in the invitation to celebrate outdoor living, on fully furnished balconies with infinity pools and Jacuzzis that overlook the wide golden sweep of Elia Beach.
Enjoy a perfect breakfast, light poolside lunches, and epicurean refinement at our restaurant with breathtaking sea views that become a dark velvet backdrop to glimmering stars and golden valley lights, just as the Kokkino bar shows its true colours.
Cuisine and service are at the very heart of our sense of hospitality. As a Myconian family, we have cultivated ties to local farmers and fishermen who supply us with the freshest seasonal ingredients and organic produce. Our culinary culture is expressed in everything we serve, from breakfast to light snacks, in-room orders and of course our fine dining experience.
Follow the scent of freshly baked bread and ground coffee and start the day with a superb breakfast that offers fresh fruit, an array of local delicacies, Greek specialties such as stuffed vine leaves or yogurt and cheese made by our local dairy, as well as a daily variety of international buffet classics.
Add to the restorative benefits of the Aegean by taking your sense of wellbeing to the next level. A wonderful selection of rejuvenating treatments and Thalasso pools awaits at our Sanctuary Spa.
The gym room, open from 9am to 9pm, is equipped with the latest in training and exercise equipment which will allow for a good workout while you enjoy stunning views of Elia beach.
The Avaton pool terrace, seemingly suspended in thin air, is one of the island's finest lookouts onto the Aegean, its famous infinity pool merging almost seamlessly on the horizon line with the vast Aegean below.
Should you wish to curl your toes into fine sand or be buoyed up by crystal clear salt water, then head down to your private lounger reserved exclusively for guests of the Myconian Collection.
There are 2 boutiques; Optique Boutique is your one-stop-shop for extraordinary glasses to protect your eyes in style, carrying the signature of leading brands. If you're looking for clothes to match your brand-new eyewear, you'd be hard-pressed to find a better source than the Avaton Concept Store, showcasing a selection of hand-picked gems for men and women – including resortwear, beachwear, stylish nightlife picks for when you want to impress the trendy Mykonos crowds, and light, airy pieces that are perfect for the heat of the Greek summer.
We only make reservations on request, meaning our personalised offers are guaranteed to be the best available, and exclusive to guests. The rates of the Pure Room starting from € 223,- euro per room, per night.
Enjoy the local area
The Avaton is poised high above Elia beach, the island's longest beach situated on the south coastline a mere 10 km from Mykonos town. Renowned for its aquamarine waters, fine sand and activities, Elia is a destination in its own right, a place where ancient myths and modern legends come alive under the Aegean sun and starry nights. A complimentary shuttle service is available to run guests of the Myconian Collection to and from town almost every hour.
Ferries to the famous ruins of Delos, one of the most important mythological and archaeological sites in the Mediterranean, depart from the town harbour. Alternatively, you may choose to explore Delos, the neighbouring desert island of Rhenia or the hidden coves of Mykonos by private launch.
Mykonos weather is famously consistent from May to October, with temperatures in July and August reaching 32-35 degrees Celsius (89-95 Fahrenheit), cooled by the occasional northerly meltemi wind.
Mykonos is easily accessible. International airlines operate through Athens, with direct connections out of London and seasonal direct flights out of numerous European hubs. Athens-Mykonos takes a mere 35 minutes.
Daily connections operate to and from the Athenian mainland ports of Piraeus and Rafina, as well as the Cycladic islands of Tinos, Syros, Paros, Naxos, Ios, Santorini, Andros and Amorgos. There are frequent connections to other gems of the Aegean such as Crete (Heraklion) and Samos, and the Dodecanese islands of Astypalaia, Kos and Rhodes.
Facilities
Entertainment & Experiences

Boutique
Fitness
Hammam
Ipad
Jacuzzi
Restaurants
Spa