Overlooking the boundless savannah, the camp offers ten spacious round thatched huts, whose warmth design, evocative of the earth, is inspired by the traditional architecture of Owambo.
- 10 comfortable huts
- Gastronomic restaurant
- Private animal reserve
- Heated infinity pool
- Concierge service
- Breakfast included
- Private Chauffeur Service
- Lounge Bar
- Laundry Service
- Spa
- WIFI
- Daily excursions are included in the all-inclusive rate
Experiencing the wild beauty of Namibia
Omaanda is a five-star lodge set within the Zannier Reserve by N/a'anku sê, an incredible private animal conservation reserve of 9000 hectares in the countryside surrounding the Namibian capital Windhoek.
Overlooking the boundless savannah, the camp offers 10 comfortable round thatched huts, paying tribute to the traditional architecture of Ovambo. It also features a restaurant and a cozy bar, overlooking an infinity pool. A spa and a boma complete the camp facilities, offering relaxation and a typically local place to meet and mingle by the fire.
The lodge has 2 types of huts: 8 one bedroom huts with 60 sqm interior, accommodates up to 2 adults and 1 child (over 6 years) and 20 sqm private terrace with seating area. 2 two bedroom huts with a common living area and 2 en-suite bathrooms. 120 sqm interior, accommodates up to 4 adults and 2 children (over 6 years) and 26 sqm private terrace with seating area.

Experience a wild luxury retreat at Omaanda and savor an unforgettable journey with an all-inclusive package.
Gallery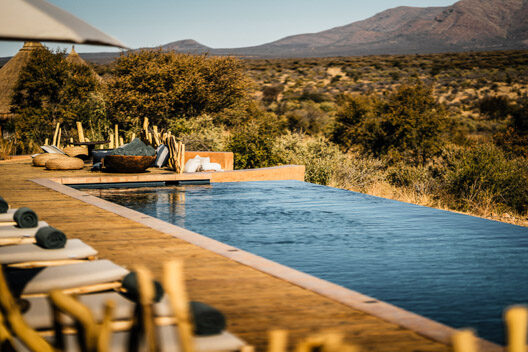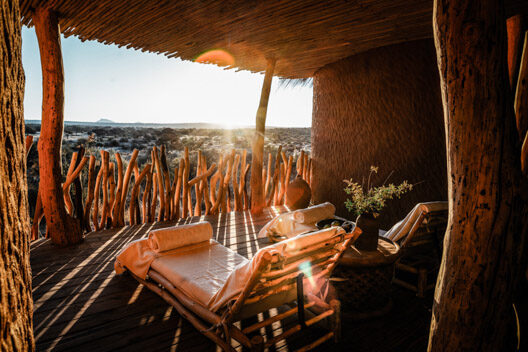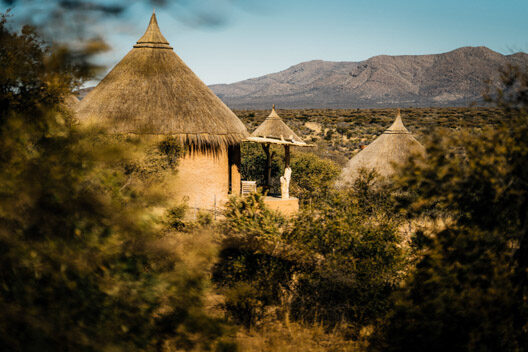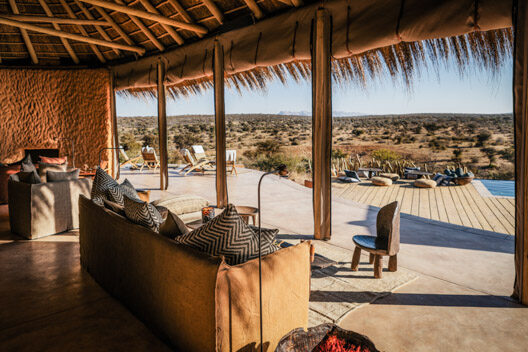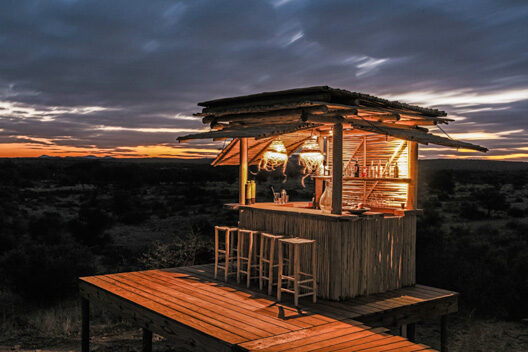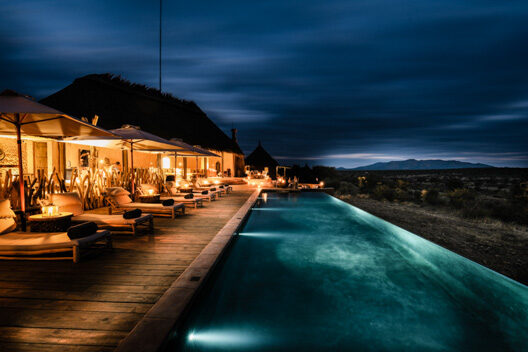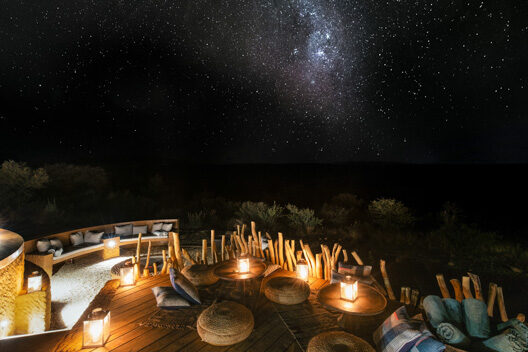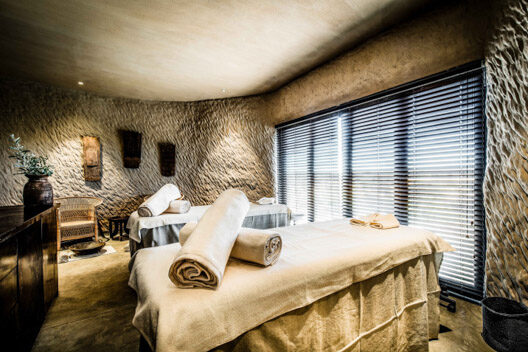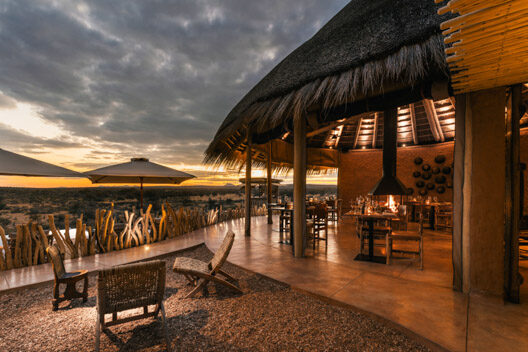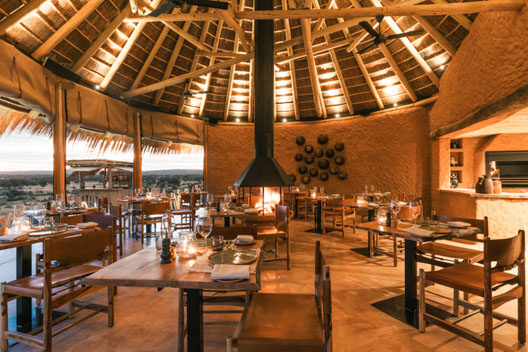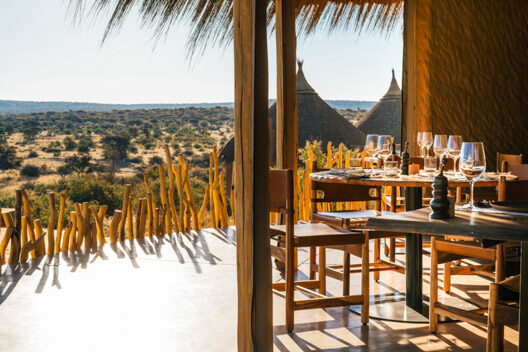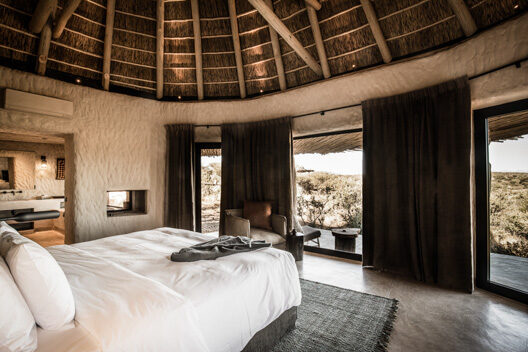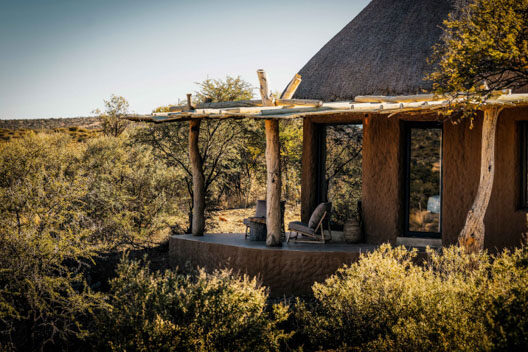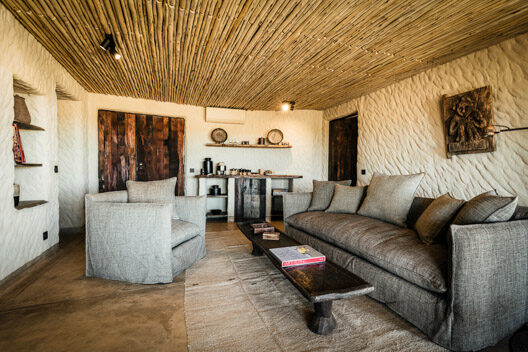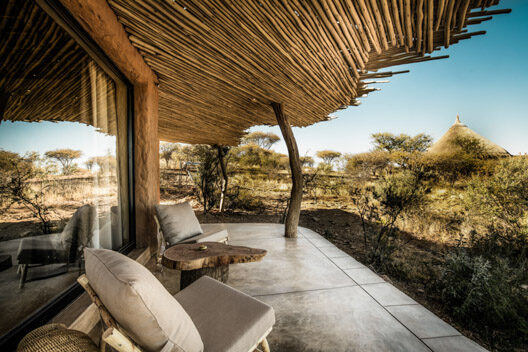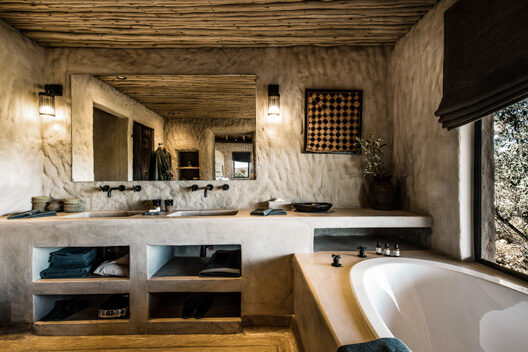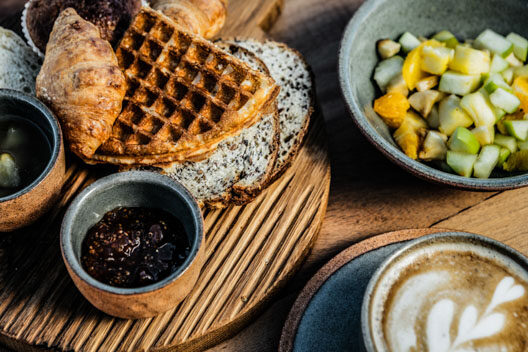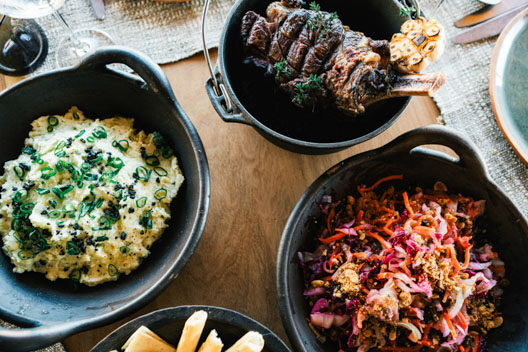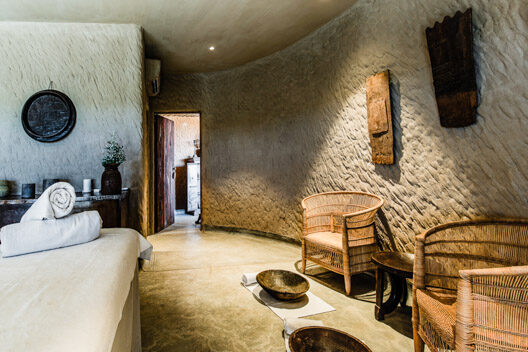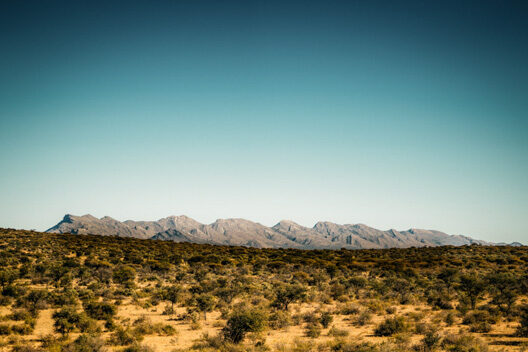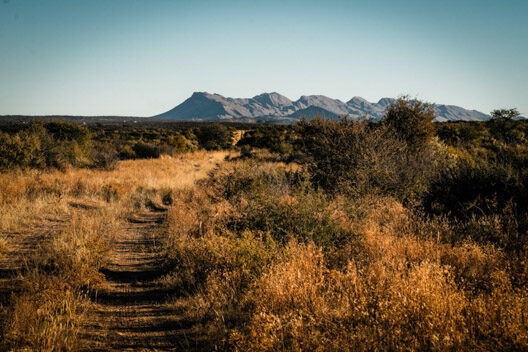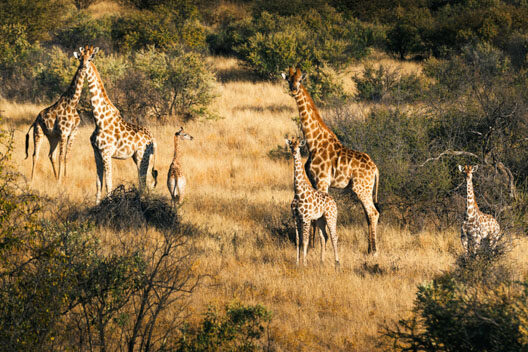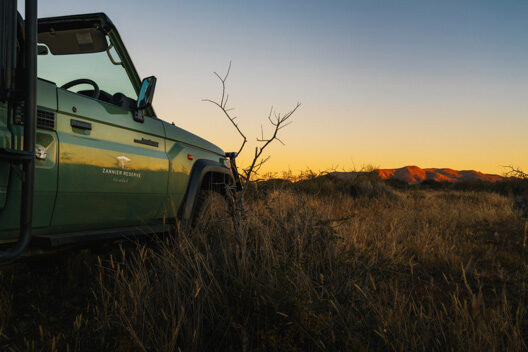 At a glance
A seamless sense of place resonates at Zannier Hotels Omaanda through traditional Owambo architecture and elevated views stretching across soul-stirring savannas to the distant Khomas Hochland plateau. Precious antiques, traditional fabrics and authentic ceramics continue the cultural context of the rush-thatched round huts, each with their own sunken bathtub and panoramic terrace.
All huts offer a bathroom with separate toilet, walk in shower, double sink and a large bathtub with a view. The bedroom has a king-size bed and a walk-in dressing room, an open fire place and a private terrace. Every hut at Omaanda has a flat screen television, free Wi-Fi, an integrated sound system, a safe, a minibar, and is equipped with an air conditioning system.
Every day is an immersion into Namibia's exoticism. Famously watch wildlife drink at the nearby watering hole, from your infinity poolside seat. Discover the soulful healing of ancient Namibian therapies that fuse local roots, herbs and spices. As night falls, gather for star-lit fireside cocktails, around the authentic Boma.
The authentic Ambo Delights restaurant serves a refined cuisine, from homemade breakfast to delicious dishes to share, including generous pieces of 'game meat' on a spit.
Relaxation is balanced by adventures through Omaanda's partnership with N/a'an ku sê - a foundation dedicated to the conservancy of Namibia's wildlife, land and cultures. Breakfast with meerkats at sunrise; track a rhino or a herd of elephants going for a swim; spy a leopard climbing a Jackleberry tree or simply experience the nocturnal beauty of the savanna – all with your own private guide.
Numerous excursions and tours, included in the services offered at the lodge, make a change between adventure and rest. Programs are designed according to the individual desires of the guests and their thirst for adventure. Each excursion offered at Zannier Hotels Omaanda is a totally unique, distinctive and magical experience, and is realised in partnership with N/a'an ku sê by local and experimented guides.
Please note that for safety reasons, Zannier Hotels Omaanda does not welcome children below 6 years old and that some activities offered on the Zannier Reserve by N/a'an ku sê are not suitable for children below 16 years old. The staff is however experienced at creating some personalized activities for our young guests, like visiting our chefs in the kitchen, playing board games, teaching about conservancy. Your children will be well taken care of.
Experience a wild luxury retreat at Omaanda and savor an unforgettable journey with an all-inclusive package.
When real life calls, Windhoek airport is only a 30-minute private transfer.
Start rates €450,- per night, per person during low season for a one bedroom tent. Rates are per person per night, and include accommodation, VAT, tourism levy, full board, all beverages (except premium brands and Champagne), transfers from and to WDH airport, and twice daily non-private excursions of 1,5 to 2 hours on a game viewer to admire the beauty of a Namibian sunrise and sunset.
We only make reservations on request, meaning our personalised offers are guaranteed to be the best available, and exclusive to our guests. Your reservation will be confirmed 24 hours after request. It then becomes definitive, and you will immediately receive an email confirmation with the details of your booking.
Check in 2 pm and check out 11 am.
Enjoy the local area
Nearest Airports
Windhoek Hosea Kutako Airport (international and domestic flights) – 20min.
Windhoek Eros Airport (domestic flights)- 35min.
Facilities
General

Air Conditioning
Bar
Bathtub
Breakfast included
Coffee maker
Concierge Service
Flatscreen TV
Full use hotel facilities
Housekeeping
Laundry Room
Minibar
Music System
Safe
Smart TV
WIFI

Outside

Bar
BBQ
Garden
Outdoor furniture
Outdoor shower
Sun Loungers
Sundeck
Sunshades
Swimming pool
Terrace

Linen & Supplies

Bathroom amenities
Pool Towels
Towels

Entertainment & Experiences

Board games
Boutique
Live entertainment
Restaurants
Spa
Swimming pool

Optional Services

Massage services
Private excursions
Private transfers