Designed as a refined British colonial experience from the 1920's, this out of the ordinary lodge offers a perfect retreat in a stunning panoramic desert landscape.
- 10 luxury tents set onto rocks
- All inclusive experience
- Communal area
- Gastronomic restaurant
- Cocktail & cigar lounge
- Outdoor heated infinity pool
- Spa
- Pool Bar
- Fitness center
- Stables
- Private airstrip
- Free WiFi
The thrill of adventure is omnipresent at Zannier Hotels Sonop
The thrill of adventure is omnipresent at Zannier Hotels Sonop. The opulence and finesse of the tented camp, set in Namibia's southwest corner, immediately recalls the 1920's era of British explorers. On arrival you immediately step back in time, transported to old-world safari.
Constructed on top of granite boulders, Sonop's remote and unspoilt setting of 5,600 hectares of untouched wilderness includes daily sightings of desert animals, from Oryx, Brown Hyenas, Rabbits, Bat-eared Foxes, Meerkats, Jackals and Leopards.
Every object and antique in the ten spacious tents are carefully selected – binoculars and maps, travellers' tales, telescopes, antique desks and handmade stationary – to ensure that every moment turns into a unique experience. From the reception room to the partially-walled bathroom and vintage bathtubs, and private terrace, everything focuses on the richness of the desert and awe- inspiring views.
There are two types of spacious tents. One bedroom tents of 42 m2 which can accommodate max 2 adults and 1 child. And the two bedroom tents of 75m2, which can accommodate 4 adults and 2 children max.

The lodge captures the restorative essence of the desert landscape with a spectacular open-air infinity pool, spa, fitness centre and daily yoga, to truly integrate our guest's wellbeing with the natural world.

Zannier Hotels Sonop has its own air strip for daily transfers to sister lodge, Zannier Hotels Omaanda, near Windhoek airport.
Gallery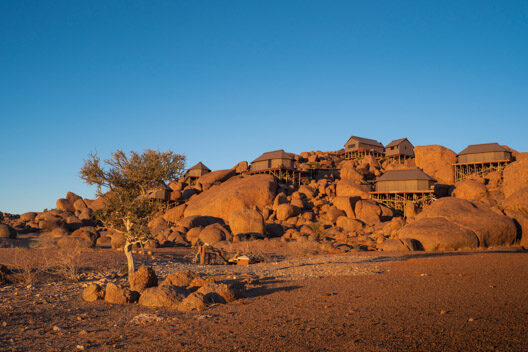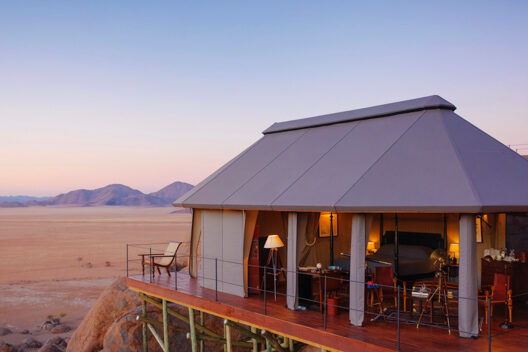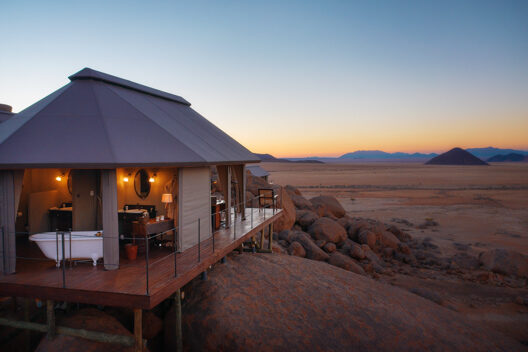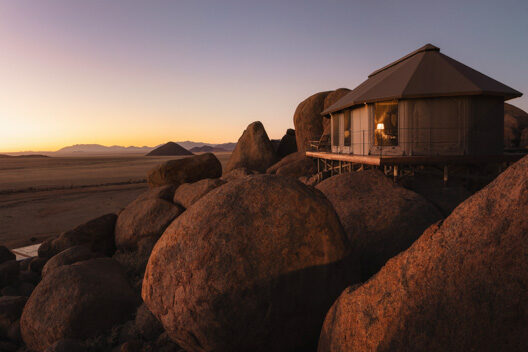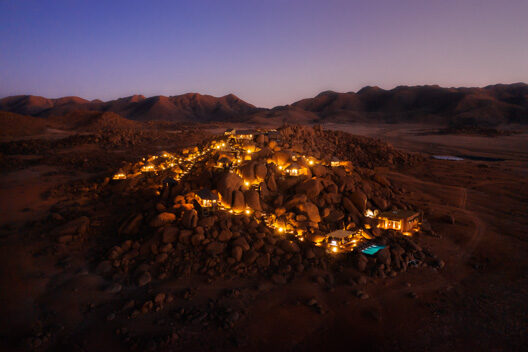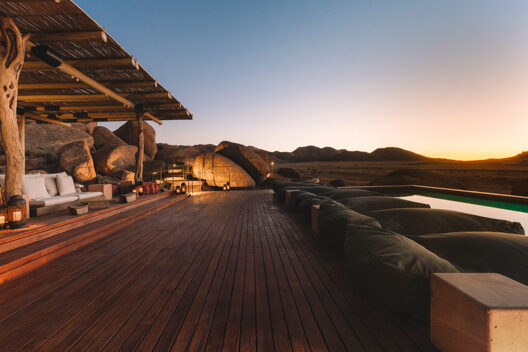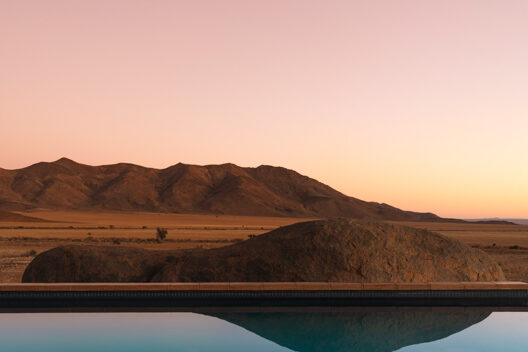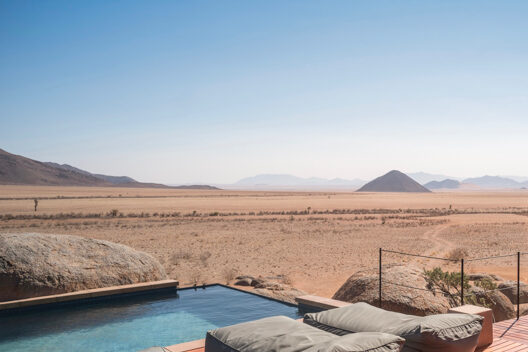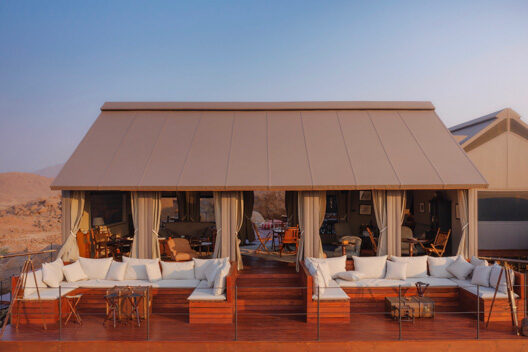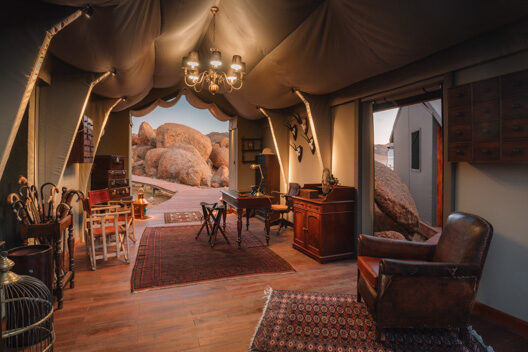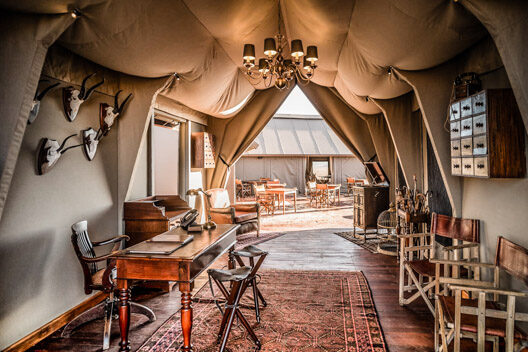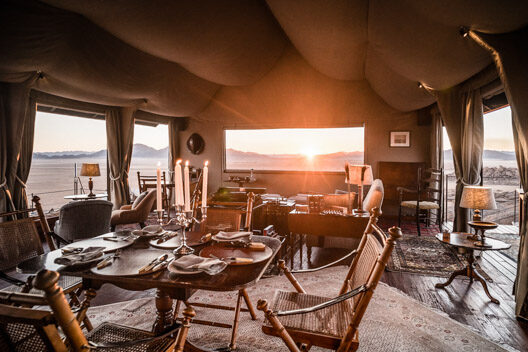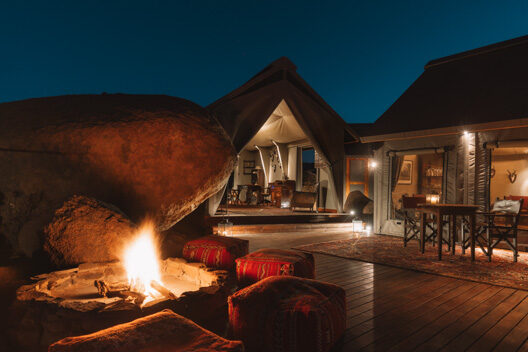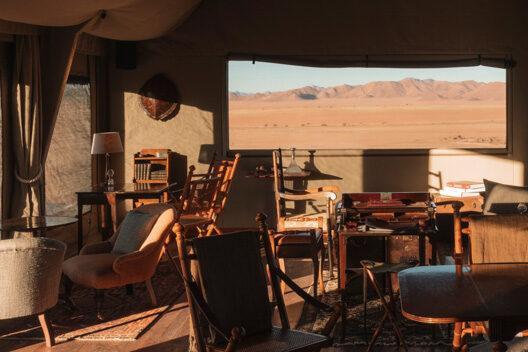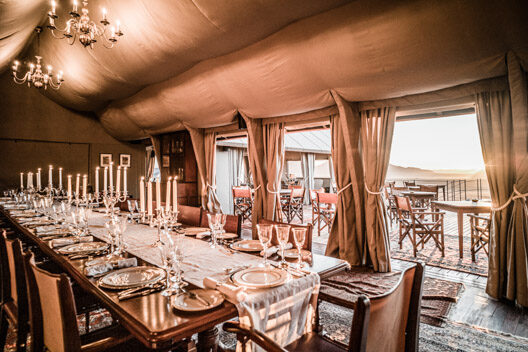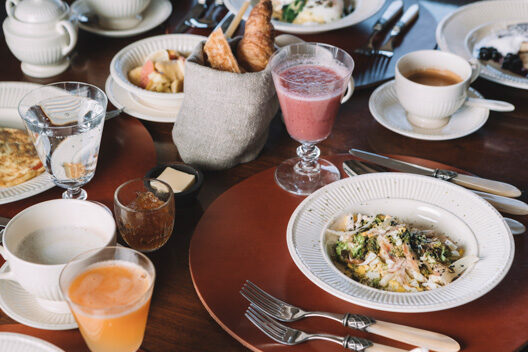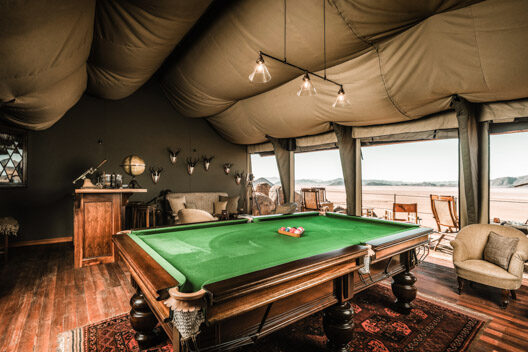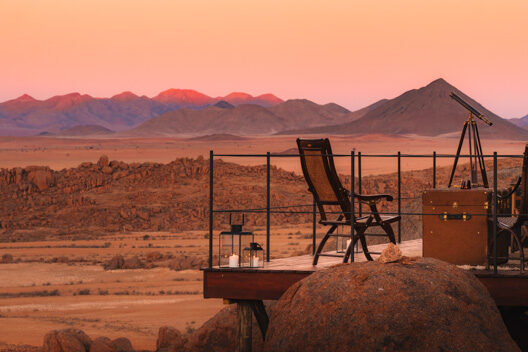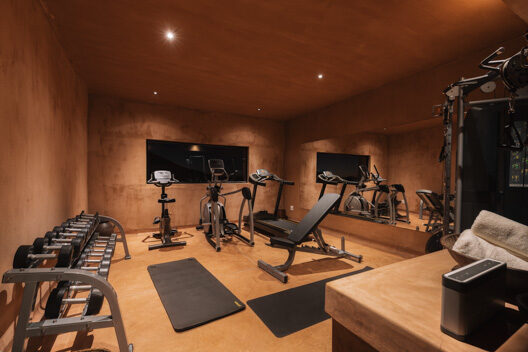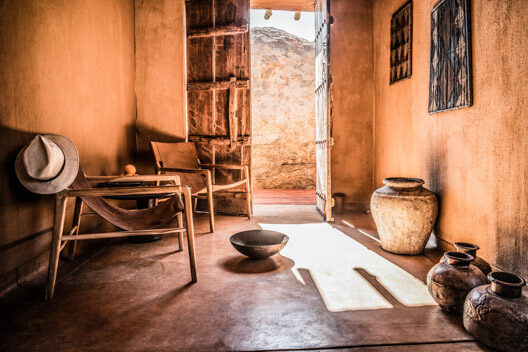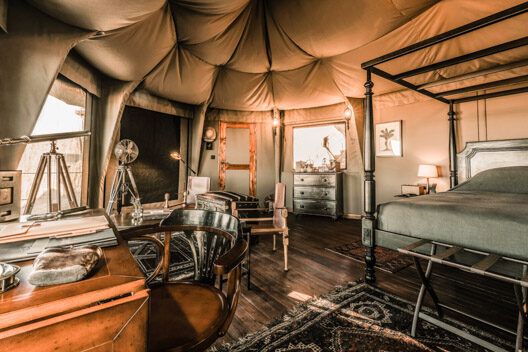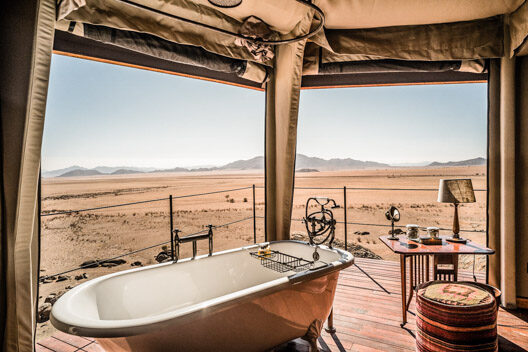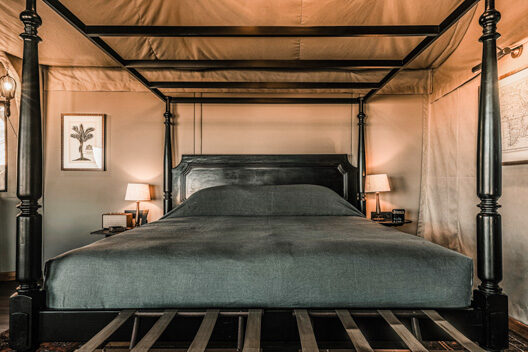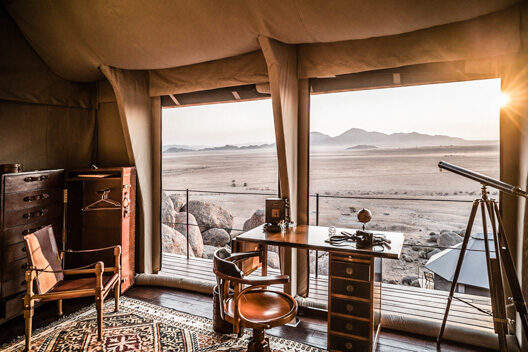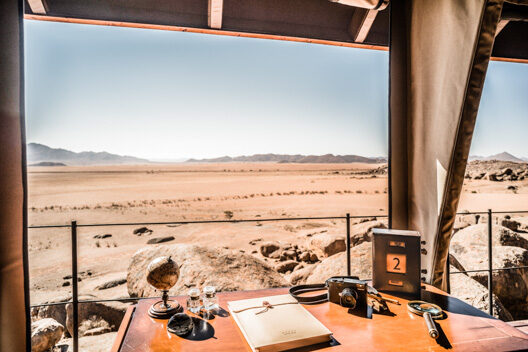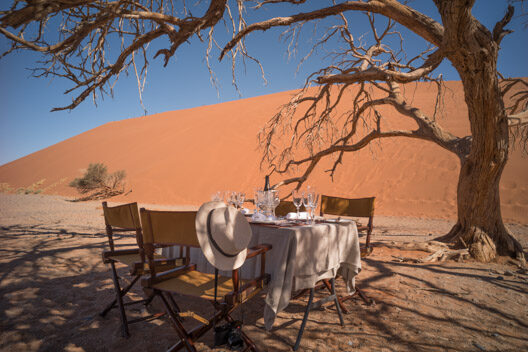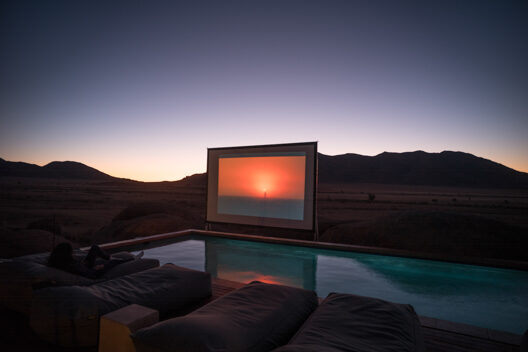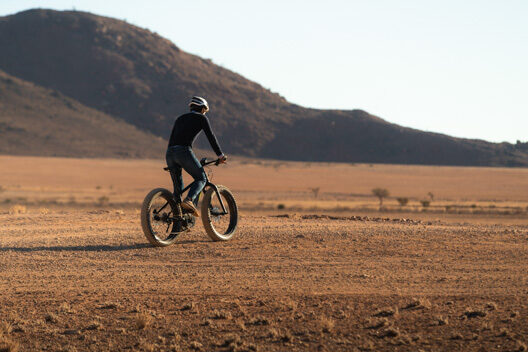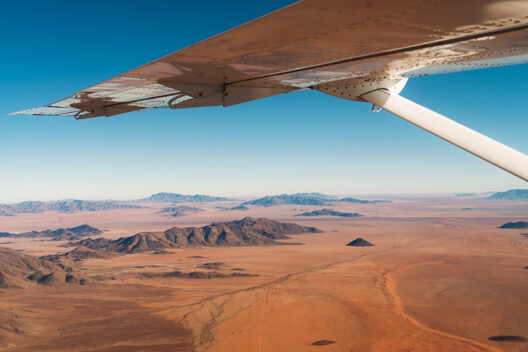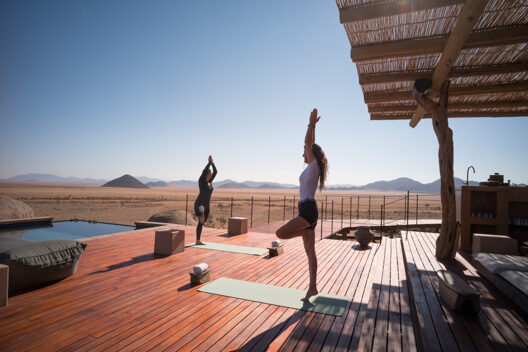 At a glance
The majestic surroundings of the desert provide ample opportunities for relaxation and adventure. Breath-taking outdoor excursions are offered within the 5,600 ha of the private reserve, where oryxes, brown hyenas, rabbits, foxes, jackals, kudus and leopards roam free.
All tents offer several roll-up canvas openings with panoramic views, a large bedroom and a separate bathroom with double sink and a large bathtub combined with a rai n shower. The bedroom features a four-poster bed with king-size mattress, a distinct living area with comfortable armchairs, a desk and a telescope to view the distant surroundings.
Every tent is equipped with free Wi-Fi, a Nespresso machine, kettle, safe, air conditioning system, heating and a docking station. The lodge's energy supply relies entirely on solar panels.
Enjoy the A-la-carte breakfast served in the main area, at the center of the camp. This same space turns into a quiet restaurant at noon, offering light dishes to share.
You can choose to wake-up with a desert yoga experience, where an experienced teacher will guide guests of all levels. At any time of the day, guests can decide to explore the desert by foot, electric bike, or horseback, accompanied by the experienced guides who will provide unique insights on the local wildlife. Night walks are also available upon request.
The spa, compromising of two double treatment rooms, offers a wide variety of treatments designed to balance, restore, and relax your body. Experienced therapists create a natural, relaxing and heartfelt spa encounter.
The fully-equipped fitness room with free weights, benches and barbells, and a variety of cardio equipment.
Overlooking the desert, the pool bar offers drinks and small bites to nibble from 11 am until 5 pm.
Every evening, at 8 pm precisely, guests are invited to a gala-style dinner. A large communal table in a prestigious setting reveals itself to the twenty guests in a room yet secretly kept. Silverware and candelabras set the mood for the elegant dinner, where butlers serve a delicious 5-course meal with black-tie and white gloves, such that the entire occasion becomes an unforgettable gastronomic experience in the middle of the desert.
The evening can be extended in the Cocktail & Cigar Lounge, designed in the style of an authentic gentlemen's club with a billiard table and parlour games taking centre stage. A selection of cocktails and exclusive spirits, presented with utmost care on a slate, are served in a convivial atmosphere by the skilled barman.
The hotel is equipped with its own stables, where experienced riders offer guests the opportunity to learn horseback riding, as well as ride into the desert to explore the scenic surroundings. Comfortable game viewers will allow guests to discover the light blue distant mountains.
As night falls, the sky lights up, creating the unique opportunity to discover the stars from the numerous telescopes. Prepare to be surprised and delighted as you are guided on an unforgettable discovery of the sky.
The open-air cinema will entice all film lovers, who in the comfort of their lounge chairs can enjoy a film while sipping on a cocktail in the middle of the desert.
A little further away, the majestic dunes of Sossuvlei are certain to delight even the most well-travelled adventurers. The luxury 4×4 vehicles will allow you to discover this grandiose sight in ultimate comfort.
Other made-to-measure excursions will be organised on request, such as hot air balloon trips and breakfast and dinners in the wild dunes.
You can experience an all - inclusive rate. Prices are per person, per night and include accommodation, VAT, tourism levy, full board and all beverages (except premium brands and Champagne) and a selection of complimentary experiences (twice daily a morning and afternoon Nature Drive, Electric Bike Trails, Walking Trails, Horse Riding Tours, Outdoor Cinema, Group Yoga and Astronomy Experience.
Check-in at 2 pm and check out 12 pm.
Children from 6 years and older are welcome.
Start night rate for a one bedroom tent during low season € 512. We only make reservations on request, meaning our personalised offers are guaranteed to be the best available, and exclusive to our guests. Your reservation will be confirmed 24 hours after request. It then becomes definitive, and you will immediately receive an email confirmation with the details of your booking.
Enjoy the local area
Zannier Hotels Sonop is equipped with its own airstrip, allowing guests to access the lodge from any African airport with small planes. The nearest international airport is Windhoek Hosea Kutako Airport (about 1h20away by plane).
The Lodge is located 250 km from Mariental (2,5 hours) and 500 km from Windhoek ( 5 hours) by the road. There is an on-site parking is available.
On request (additional costs) there is a concierge team available to organize transfers between Omaanda and Sonop camps and to or from the airports.
The hotel offers breath-taking outdoor excursions within the 5600 ha of the private reserve, where oryxes, brown hyenas, rabbits, foxes, jackals, kudus and leopards roam free.
This includes exploring the desert by foot or riding horses from the own stables in the colorful scenery ranging from dark purples to bright blue sky.
Electric mountain bikes and comfortable game viewers will allow guests to discover the light blue distant mountains. Other made-to-measure excursions will be organized on request, such as hot air balloons, hiking or dinners in the wild.
Facilities
General

Access to thermal area
Air Conditioning
Bar
Bathtub
Breakfast included
Coffee maker
Concierge Service
Full use hotel facilities
Hairdryer
Heating
Housekeeping
Laundry Room
Minibar
Music System
Safe
WIFI

Optional Services

Activity planning
Airport transfers
Chauffeur service
Concierge Service
Hiking
House keeping
Massage services
Private excursions
Private transfers
Yoga or Pilates teacher

Outside

Bar
BBQ
Dining Area
Outdoor furniture
Parking
Sun Loungers
Sundeck
Sunshades
Swimming pool
Terrace

Linen & Supplies

Bathroom amenities
Pool Towels
Towels

Entertainment & Experiences

Bicycles
Board games
Cinema
Fitness
Horseback riding
Restaurants
Spa
Yoga
Yoga mats