Exclusive villa accommodation resort right near Saint-Tropez, on the same estate as one of the best luxury hotel resorts on the French Riviera.
- Five bedroom villa 380 m2
- 1* restaurant La Voile
- Private pool, jacuzzi, pool house
- Breakfast in villa included
- Garden of 2500- 3800 m2
- Fully equipped luxury kitchen
- 24/7 security in the private area
- Access to fitness center
- Conciërge services
- Access to Spa facilities
- Dedicated housemaid
- Access to in -and outdoor pools
- A la carte services on request
- Outdoor parking
Private villas hidden in the hilltops with spectacular views
More than a villa for rent with hotel services nestling inside La Réserve Ramatuelle 5 Star luxury resort with its design hotel, this is a very discreet balcony perched above the Mediterranean affording breathtaking seaviews. Perched at the top of the estate in a unique setting overlooking the French Riviera affording a spectacular panorama of the Escalet cove, the large terraced garden enables the eye to roam across the magnificent blue shades of the sea at this unique spot along the coastline. Simply wandering down into this garden provides a chance to explore various viewpoints that are truly magical at any time of the day or night. Cape Taillat stands out against the horizon, a vision one can relish in full from the infinity-edge private swimming pool, tiled in a shade of blue specifically chosen to reflect that of the sea beyond. Supreme refinement.
Inside the house, wide bay windows ensure one can enjoy the show from inside, blurring the frontier between inside and outside. Accentuating the pervasive sense of continuity, the same white Tunisian stone adorns the outside terraces and the interior. This resolutely contemporary approach is also reflected in the pure, mineral-inspired decoration. The only villa on the estate with three bedrooms (including two master bedrooms), this new property embodies an ideal refuge truly set apart from the world and yet conveniently close to St-Tropez.
Rental of a fully equipped villa -based on tailor-made offer- includes
– A la Carte breakfast served in the villa
– Personalized service from a dedicated housemaid available 6 hours per day (breakfast, cleaning and laundry services included)
– Mineral waters, sodas, snacks, selection of teas and coffees on arrival
– Afternoon tea with fresh homemade pastries
– Selection of wines (from a week minimum stay)
– Grocery delivery
– Concierge service
– Safety box in each bedroom
– 24-hour security in the private area
– Wifi
– Daily newspapers on request
– Access to the spa, the fitness room, the hammam, the indoor (12m) and the outdoor (30m) heated pools
– Access to our Michelin starred restaurant La Voile, and delivery of your room service requests to your villa
– Complimentary transfer from La Réserve Ramatuelle to the beaches and Saint-Tropez, upon request and depending on availability.
Villa 1: Sea view, 380 m2, private terrace, private outdoor pool, pool house, private jacuzzi, 5 bedrooms, 5 bathrooms, 7 separate toilets, 5 safes, and 6 outdoor parking places. South-West exposition.
Villa 4: Sea view, 420 m2, private terrace, private outdoor pool, 5 bedrooms, 5 bathrooms, 6 separate toilets, 5 safes, and 2 covered outdoor parking lot. East exposition.
Villa 5: Sea view, 365 m2, private terrace, private outdoor pool, covered terrace with chimney, 5 bedrooms, 5 bathrooms, 6 separate toilets, 4 safes, 2 garages and 4 outdoor parking places. East exposition.
Villa 11: Sea view, 450 m2, private terrace, private outdoor pool, pool house, private jacuzzi, 5 bedrooms, 5 bathrooms, 7 separate toilets, 5 safes, 2 garages and 4 outdoor parking places. East exposition.
Villa 18: Sea view, 330 m2, private terrace, private outdoor pool, 5 bedrooms, 5 bathrooms, 6 separate toilets, 5 safes, 1 garage and 2 outdoor parking places. East exposition.
Villa 19: Sea view, 350 m2, private terrace, private outdoor pool, 5 bedrooms, 5 bathrooms, 6 separate toilets, 5 safes, and 4 outdoor parking places. East exposition.
Gallery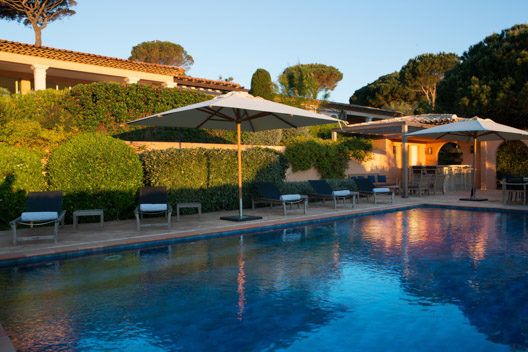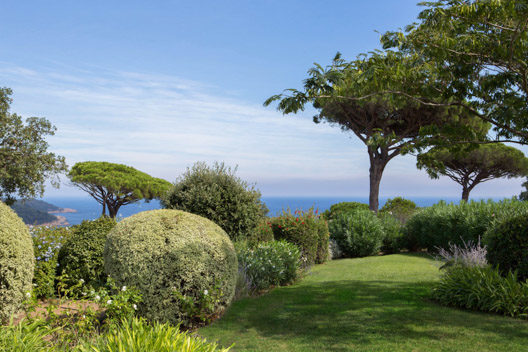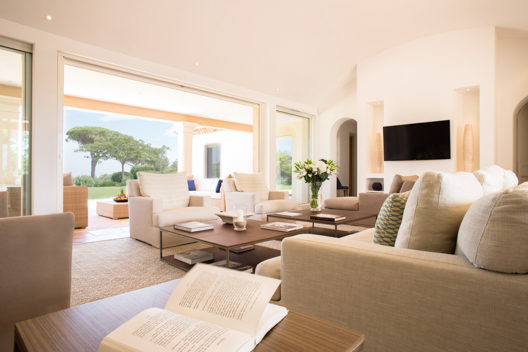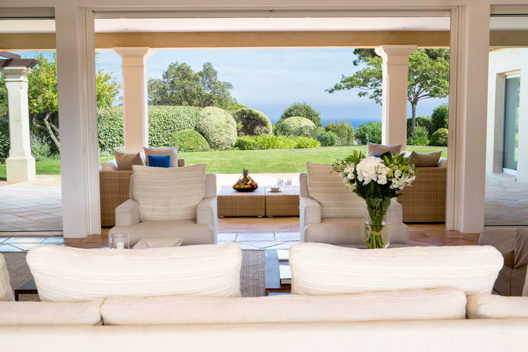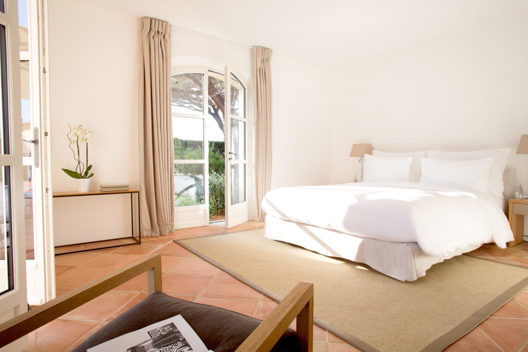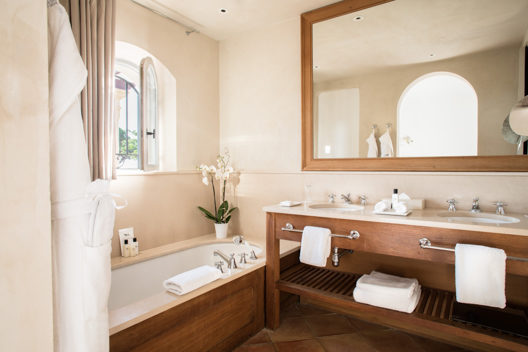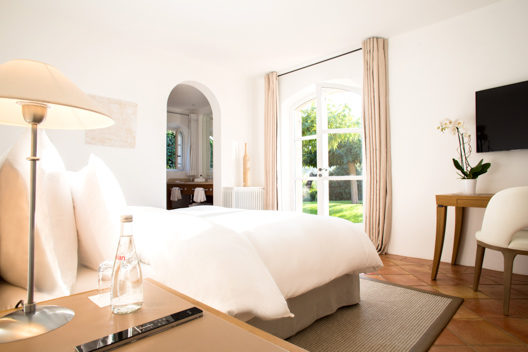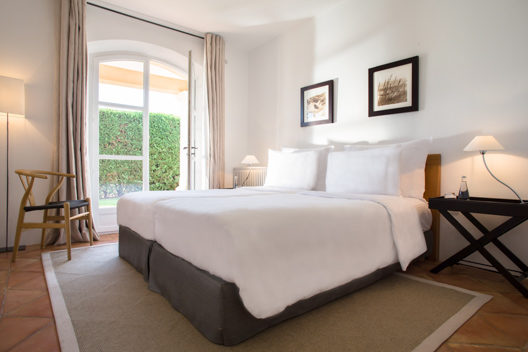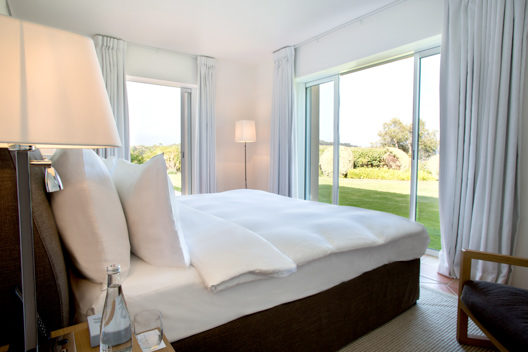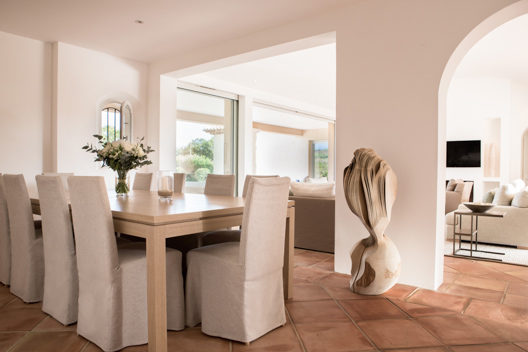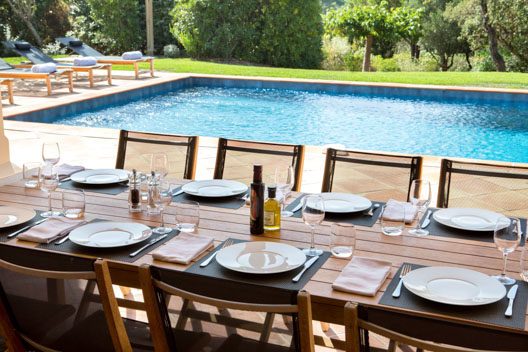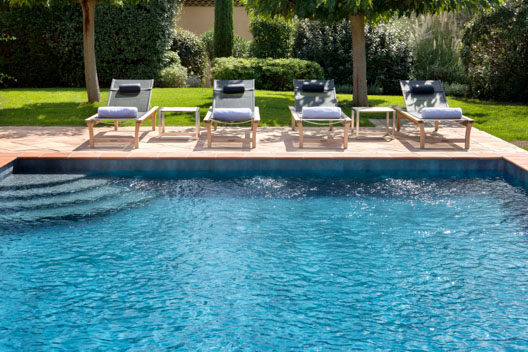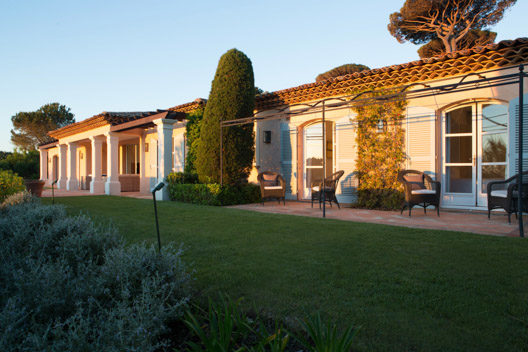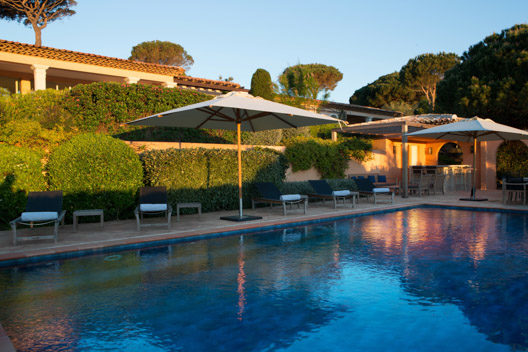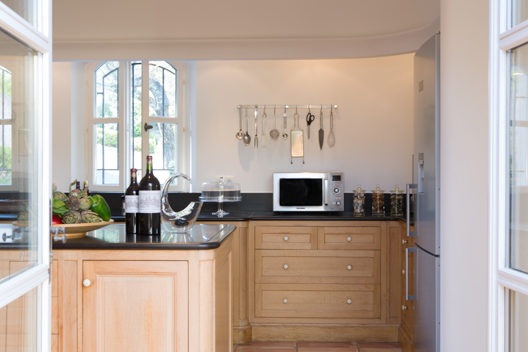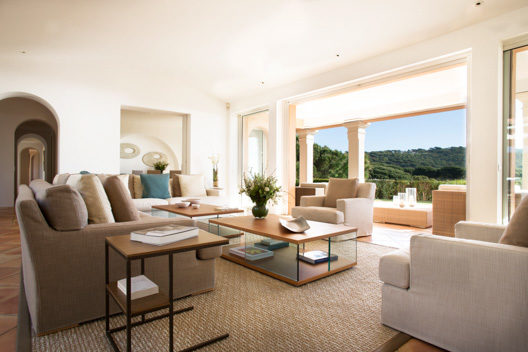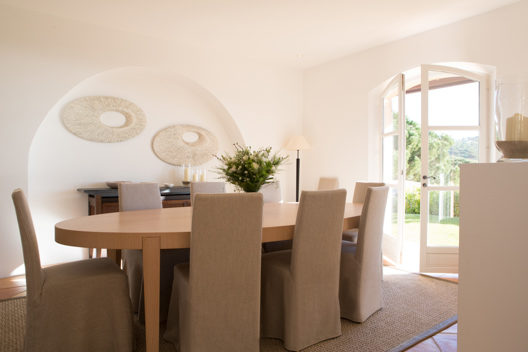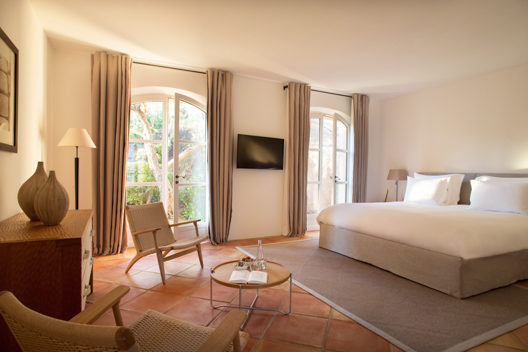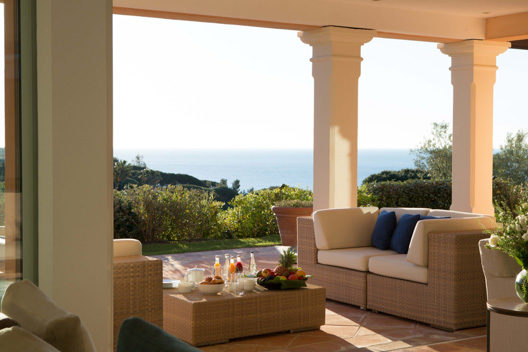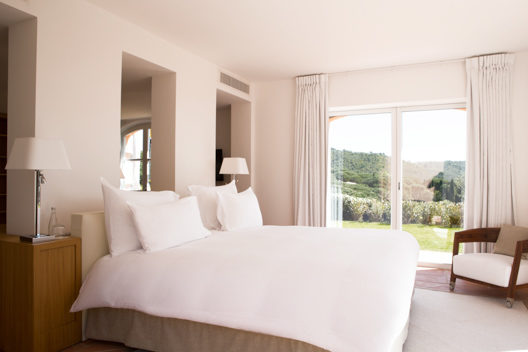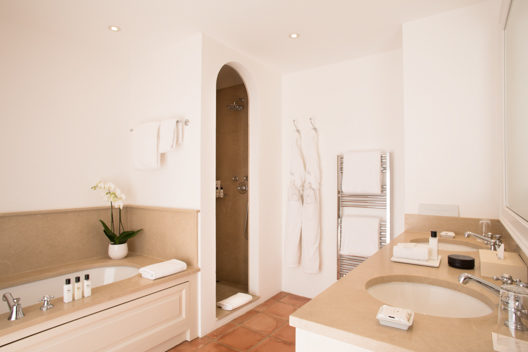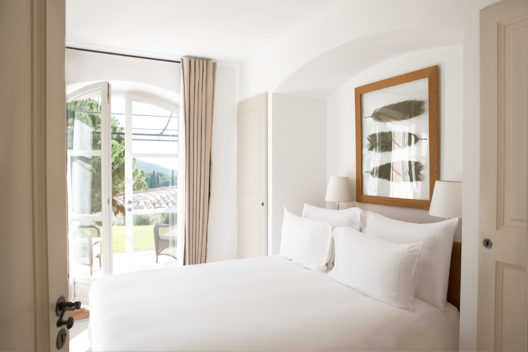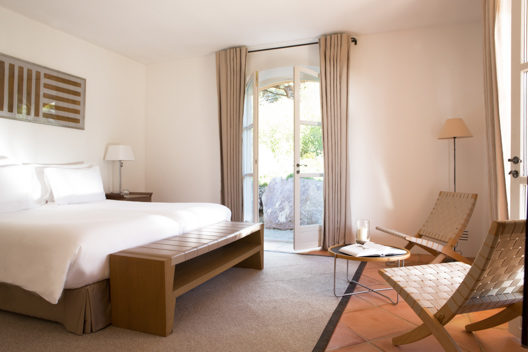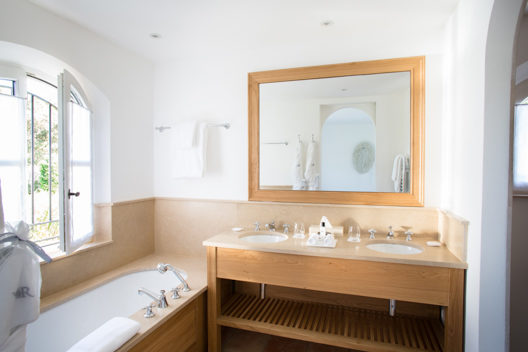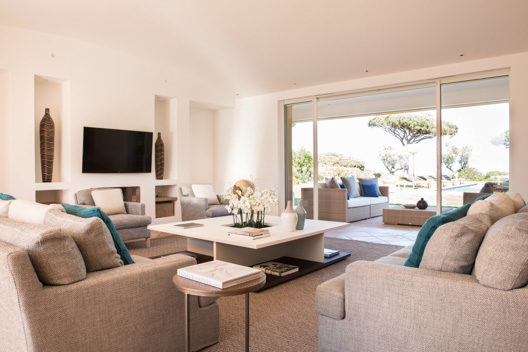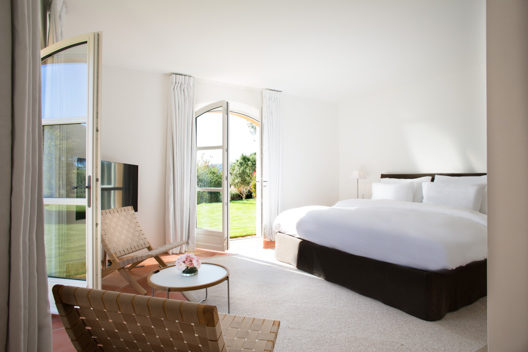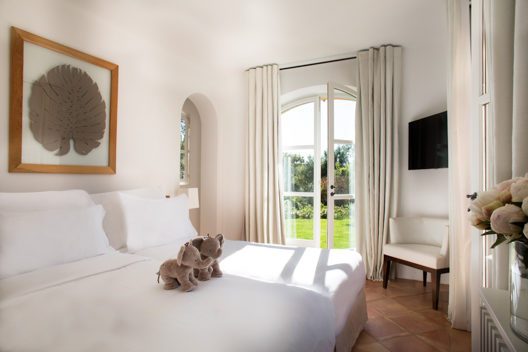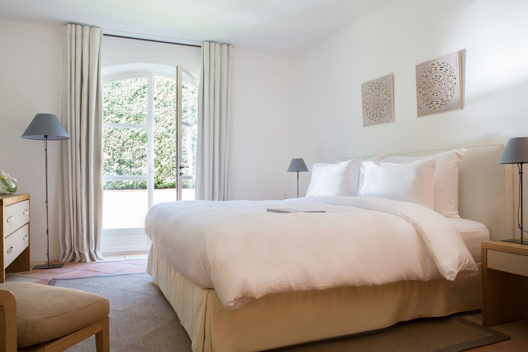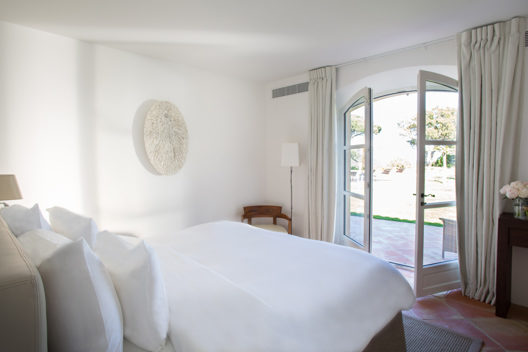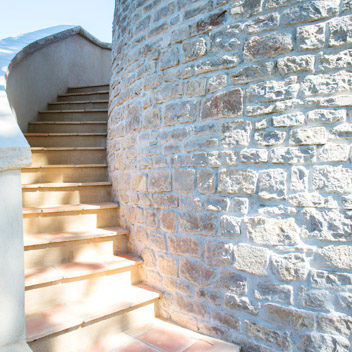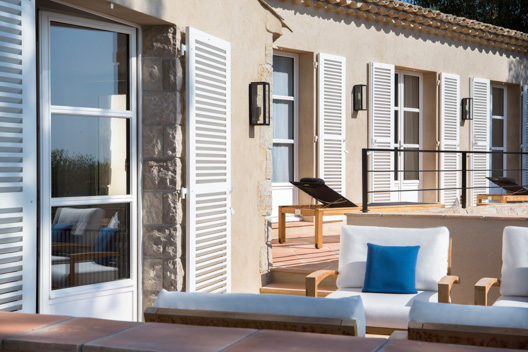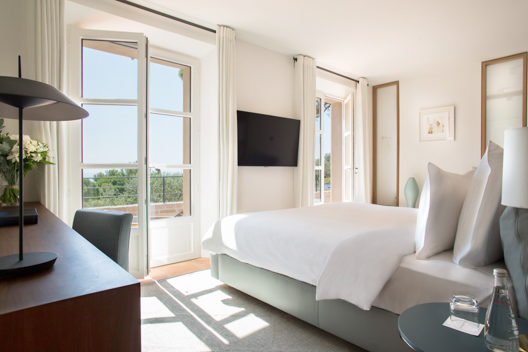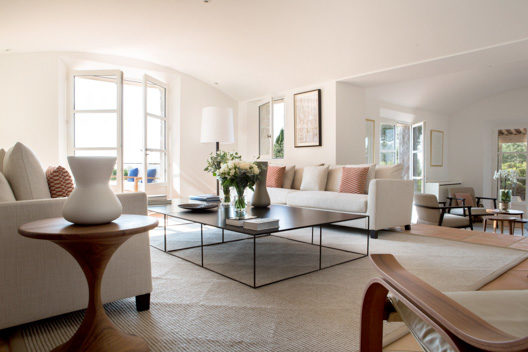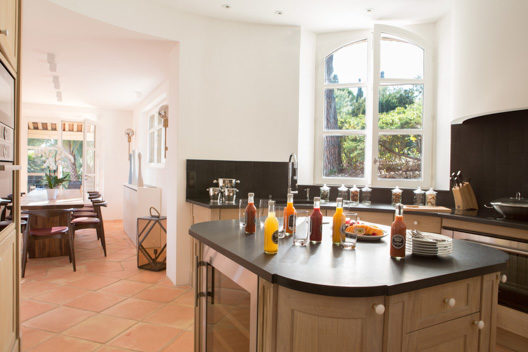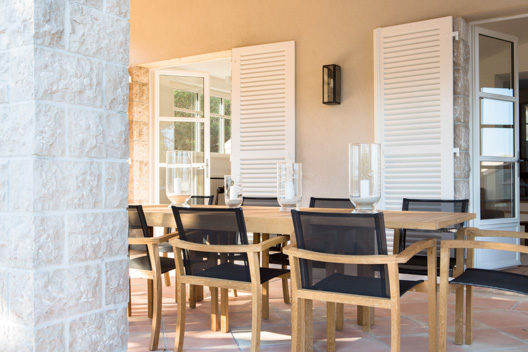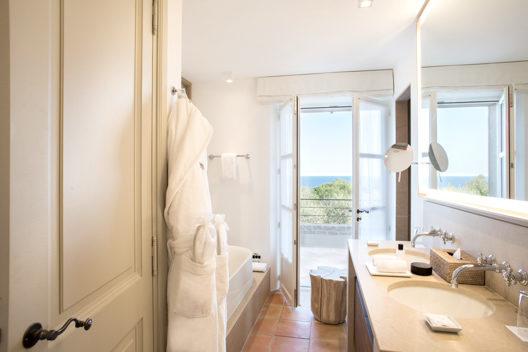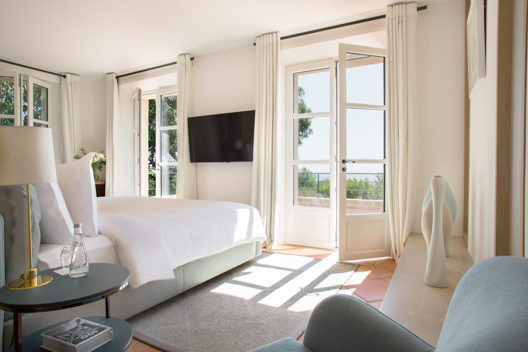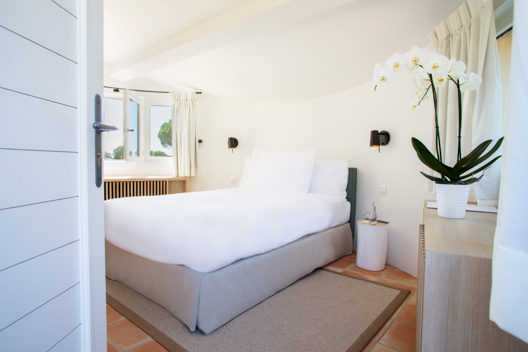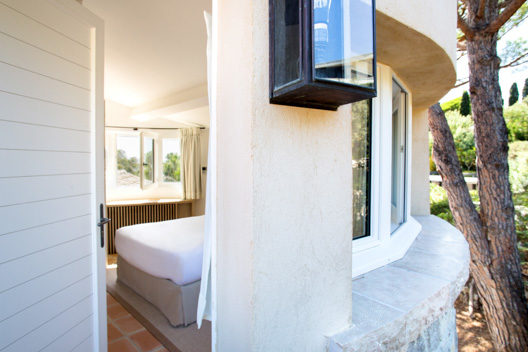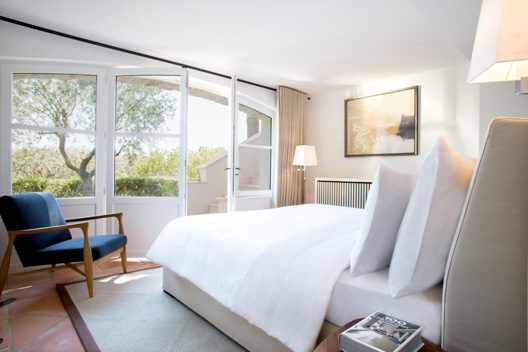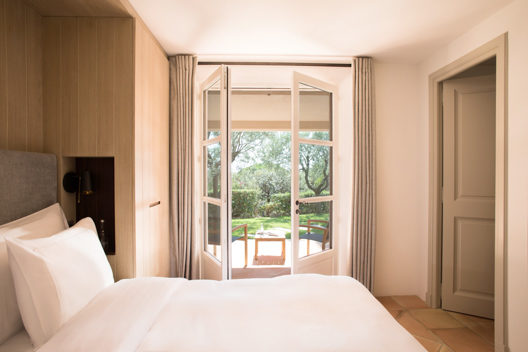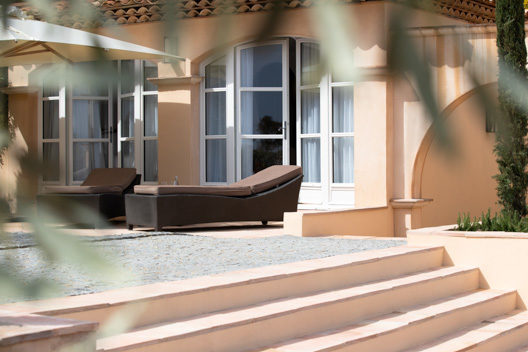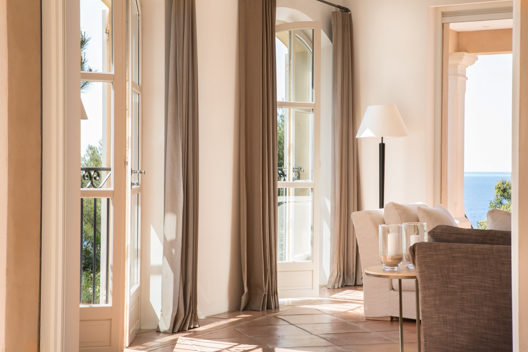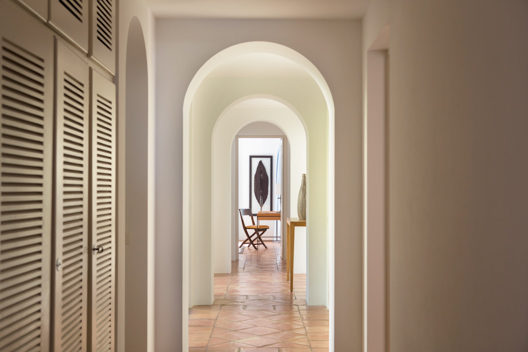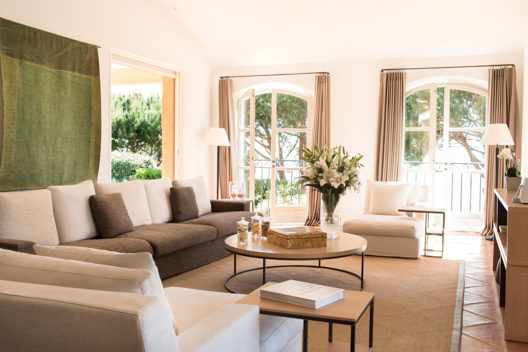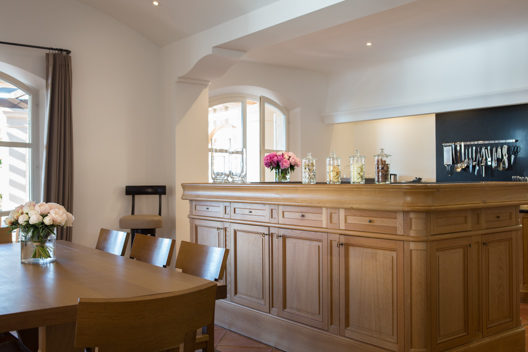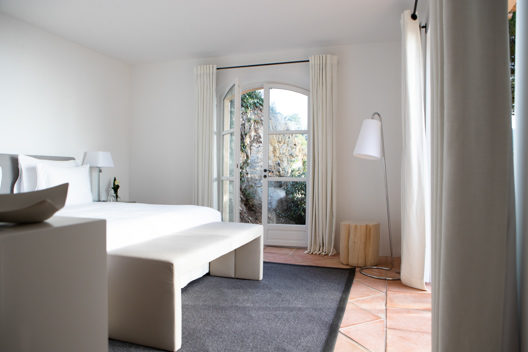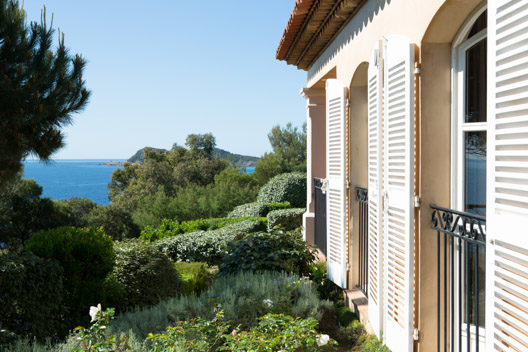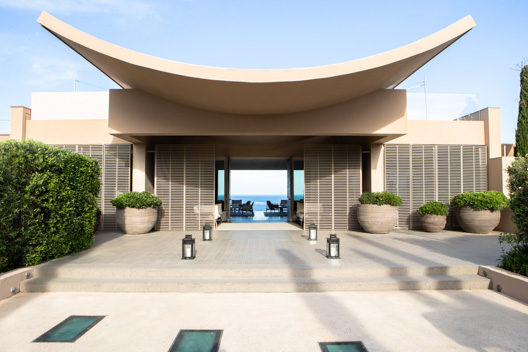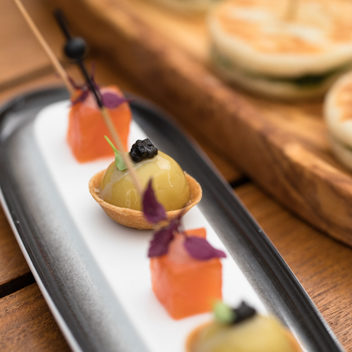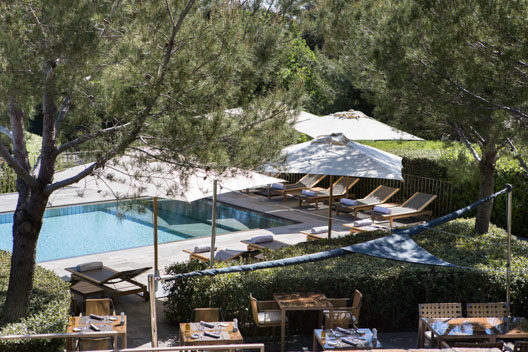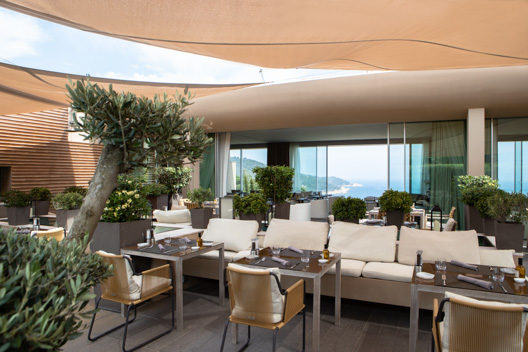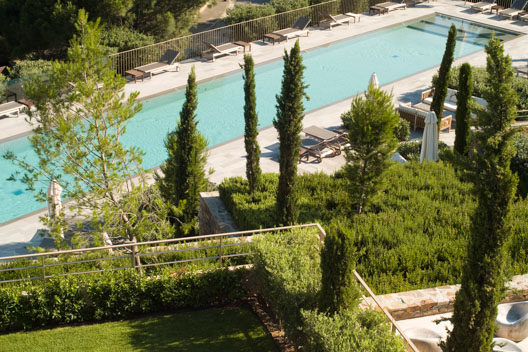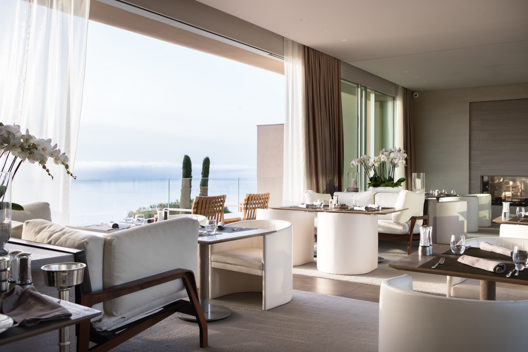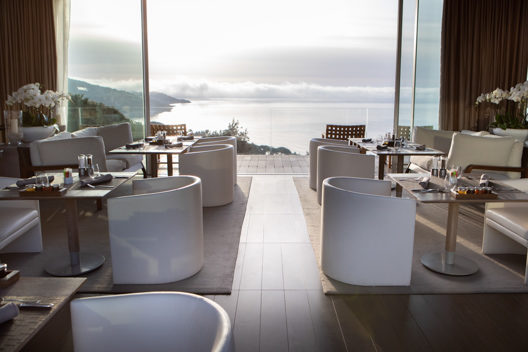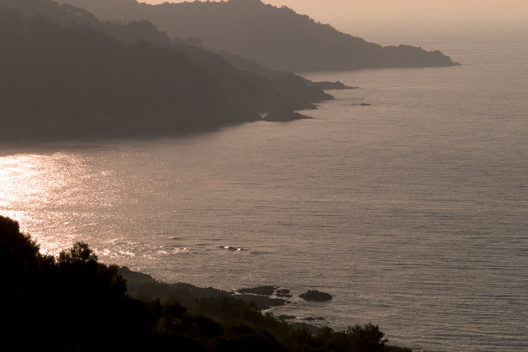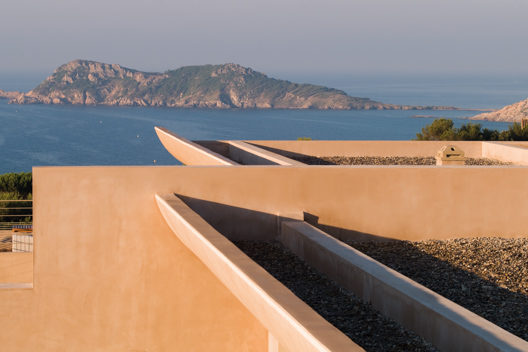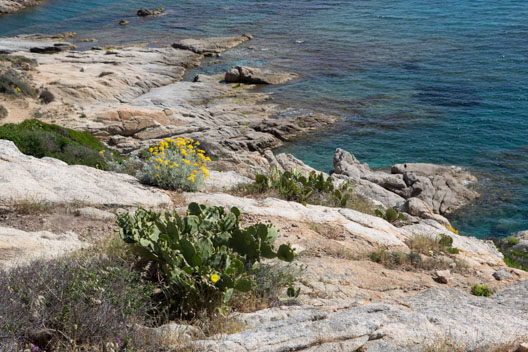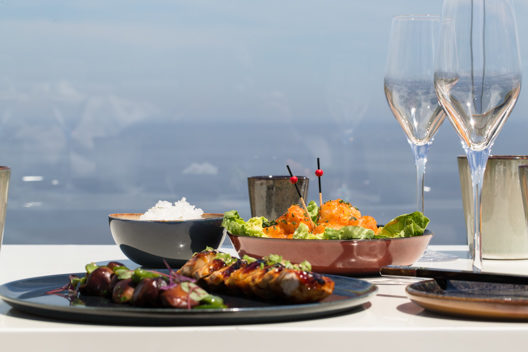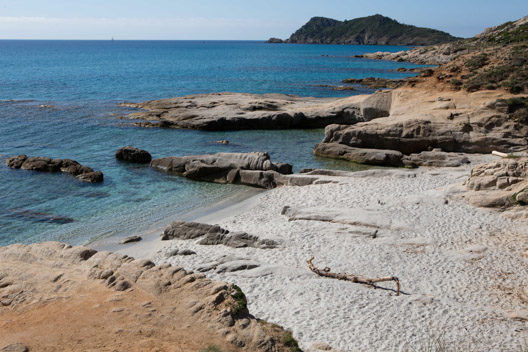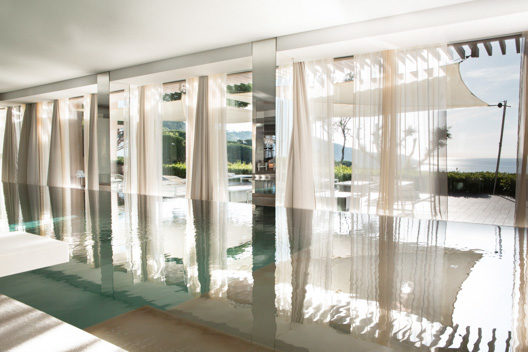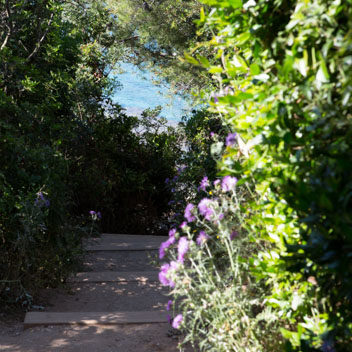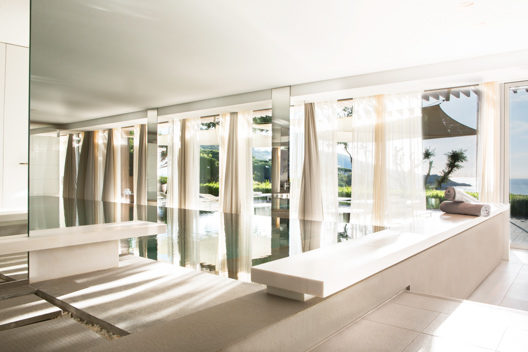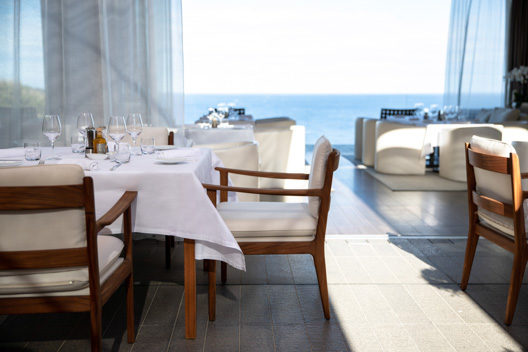 At a glance
Six, five-bedroom villas with ensuite bathrooms, heated pools -some with Jacuzzi and pool house- hidden in the hilltops. Here, you will find an intimate and infinitely pleasing home away from home, where excellence is both a vocation and a promise to those who share an appreciation for a different way of life.
The subtle luxury of refined simplicity, uncluttered and unpretentious. Experience a reassuring sense of privacy, the luxury of an attentive, discreet staff.
Staying in a villa also means benefiting from all the personalized/bespoke services of the La Réserve Ramatuelle palace hotel located at the heart of the estate. A stunning spa, a Michelin-starred restaurant based on light and delicious Mediterranean cuisine, a Japanese restaurant, a bar...
Villa 1 is located in a green setting, close to the hotel. Entirely rebuilt and renovated in 2016, this two-floor residence has a great deal of charm. The upper floor and the terraces of the master bedroom, lounges and dining room all offer sweeping sea views. The villa has five bedrooms, one in the tower and three on the garden level. The large swimming pool is surrounded by a lush Mediterranean garden and has a pool house.
Villa 4 is located in the lower part of the estate with an extremely appealing sea view. It offers a lounge with a sea view, a fitted kitchen overlooking the dining room and a terrace, all opening onto a beautiful terrace facing the pool with its lounge and dining area. The sleeping area includes four bedrooms with bathrooms and each with a terrace. The fifth bedroom is independent with outside access.
Villa 5 is located in the lower part of the estate near the sea. This single-story residence features a large covered patio with fireplace, lounge and outdoor dining room, near the pool, with a beautiful sea view. It has five bedrooms including a master bedroom overlooking the pool and the sea, located on the other side of the patio with an independent entrance.
Villa 11 is located in the upper part of the estate and enjoys a dominant sea view. The heart of this single-story residence opens onto the living areas: lounge, dining room, open patio and outdoor terrace. It features two spacious master bedrooms with walk-in closets, two double bedrooms and a semi-master bedroom. Just below it is a swimming pool.
Villa 18 is located in the upper part of the property and is accessible via a staircase. This one-story residence features a lounge opening onto a terrace and a lawn with a dominant sea view. It has five bedrooms, including two master bedrooms, two double bedrooms and a double bedroom that can accommodate an extra bed. The swimming pool, located on the hill side of the villa, enjoys sunshine all day long.
Villa 19 is a five-room one-story residence located in the upper part of the estate and is accessible via an outdoor staircase. The wide picture windows of the lounge open onto the terrace overlooking the pool facing the sea and surrounded by a lawn.
Floating between the deep blue sea and the azure of the sky, Restaurant 'La Voile' hoists the colours of gastronomy that is devoid of anything superfluous and which focuses on the pleasure of true flavours.
True to his style, Eric Canino, double-starred Chef, remains at the helm of a restaurant reputed for its culinary creativity and offers cuisine as light as a gentle breeze under the immaculate white sail shades on the terrace, overlooking the Mediterranean.
Relax at the hotels exceptional Spa, with 11 treatment rooms, indoor and outdoor pools, steam room and fitness room, as well as the Mediterranean sea with all its benefits stretched out before you.
Stay active at the state-of-the-art equipment fitness center by Technogym (with computer memory and personal key): treadmills, exercise bikes, muscle-building equipment, individual or limited group exercise classes (Pilates, Body Sculpt, Stretching, Yoga Balance, Aquagym).
There are 2 different ways to appreciate the villas: The tailor made offer or the Bespoke offer. The bespoke offer, gives you even more luxury services on top of the tailor made offer: Personalized Butler service available 8 hours a day, private chef in your villa 8 hours a day, private car & driver at your disposal 8 hours per day, private buggy to use around the resort, 2 hour spa treatment with a therapist or exercise with a coach daily, groceries, fruit and vegetable basket and soft drinks awaiting you upon your arrival in your villa, wine cellar with a selection of 24 bottles recommended by our sommelier and security guard from 8 pm to 8 am.
A la carte services can be organised on request, such as: In-house chef for lunches, dinners, cocktail parties. Massages, treatments and personal trainer in the Spa or in the villa, hairdresser. Driver, boat rental, airport transfer. Baby-sitting and dry cleaning.
Fitness and relaxation areas (pools, gym, steam room), are open daily from 10am to 8pm from July to August and 10am to 7pm in September. Treatments are available daily between 9am and 7pm, on request and according to availability.
Opening hours Breakfast buffet 7.30 am – 10.30 am, Lunch 12 pm – 4 pm, by the pool Dinner 7.30 pm – 10 pm, Bar 7.30 pm – 12.30 am
We only make reservations on request, meaning our personalised offers are guaranteed to be the best available, and exclusive to our guests. Your reservation will be confirmed 24 hours after request. It then becomes definitive, and you will immediately receive an email confirmation with the details of your booking. We ensure pricing transparency for our guests: there are no hidden booking fees.
Enjoy the local area
Ramatuelle – the Saint-Tropez peninsula. Just a few minutes from the legendary village lies a place away from the buzz, far from crowds and noise. La Réserve Ramatuelle overlooks one of the most beautiful bays on the Côte d'Azur, with a spectacular view over the endless sea, a vast private estate nestled in the Provence garrigue (Mediterranean scrubland), lulled by the sound of cicadas. A world apart, suspended between sky and sea, fused with an exceptional natural environment. Here, every Southern dream comes true according to the whim of the moment in one of the 14 villas decorated by interior designer, Rémi Tessier.
International Nice Airport 1h30
Toulon Airport 1h
La Mole Private Jet Airport 20min
Port of Saint Tropez 12 km
Saint Tropez town 10 min
L'Escalet beach 2km
Facilities
General

Access to thermal area
Air Conditioning
Bathtub
Breakfast included
Coffee maker
Concierge Service
Full equipped kitchen
Full use hotel facilities
Hairdryer
Heating
Housekeeping
Minibar
Music System
Safe
Security
Smart TV
WIFI

Optional Services

Activity planning
Airport transfers
Baby cot
Baby equipment
Babysitting
Beach butler service
Beautician
Boat charters
Butler service
Car Rental Service
Extra bed
Personal trainer
Private chef
Private excursions
Private transfers

Outside

Bar
BBQ
Dining Area
Garage
Garden
Outdoor fridge
Outdoor furniture
Outdoor kitchen
Outdoor restaurant
Outdoor shower
Parking
Private pool
Security
Sun Loungers
Sundeck
Swimming pool
Terrace

Linen & Supplies

Bathroom amenities
Pool Towels
Towels

Entertainment & Experiences

Beach club
Fitness
Hammam
Jacuzzi
Restaurants
Sauna
Spa
Steam room
Swimming pool
Yoga