Live like a Greek deity perched upon your very own Mount Olympus as you enjoy the serene seclusion and unrivalled elegance of your private, marble-edged pavilion within Amanzoe's paradisiacal grounds.
- Standalone pavilions
- Breakfast included
- Beach Cabanas
- Exquisite restaurants
- Private pool
- Private beach club
- Six swimming pools
- Private beach
- 2850 m2 Aman Spa
- Tennis courts
- Yoga pavilion
- Gym
- 360-degree views
- Library
- Amphitheatre
Heavenly Greek hideouts (pavilions and beach cabanas), Peaceful seclusion (villas)
The heavenly Greek hideaway of Amanzoe is simply outstanding. Tranquility, privacy and elegance are at the heart of every detail, from the exquisitely designed marble-edged pavilions and the idyllic private Beach Club, to the impeccable and gracious service at hand for each guest.

Amanzoe's private Beach Club is settled in a sheltered bay, and features four swimming pools, a restaurant, and a collection of private cabanas. It hosts a variety of watersport activities for memorable beachside afternoons, from snorkelling and diving, to paddle boarding and windsurfing. Hop aboard your chartered speedboat and visit the secret coves and islands of Spetses and Hydra that lie closeby.

Within the resort of Amanzoe itself, you're invited to revitalise, relax and regenerate as you explore the fragrant gardens, the expansive and light-filled Spa, and airy restaurants with magnificent vistas of the Aegean Sea and the Peloponnese countryside. Rejuvenate at the 2,850m2 spa, and enjoy a variety of excellent spa treatments, or even restorative yoga classes in the amphitheatre.
Gallery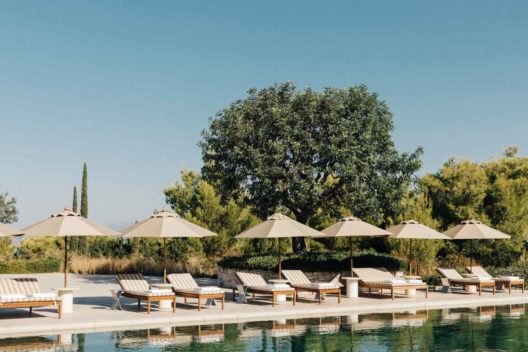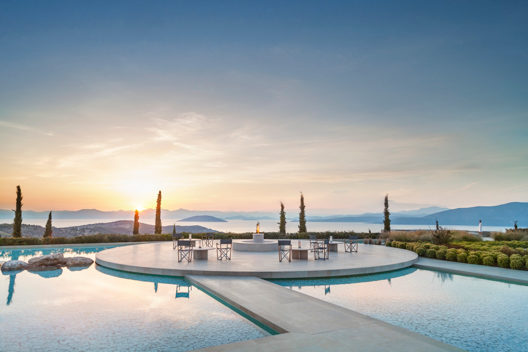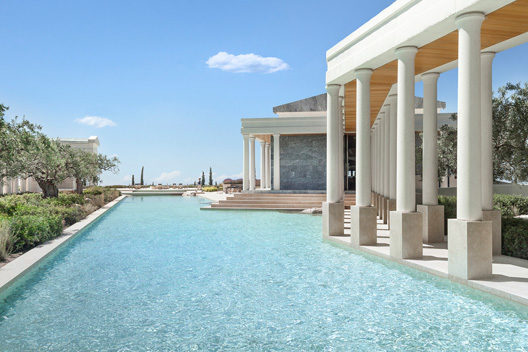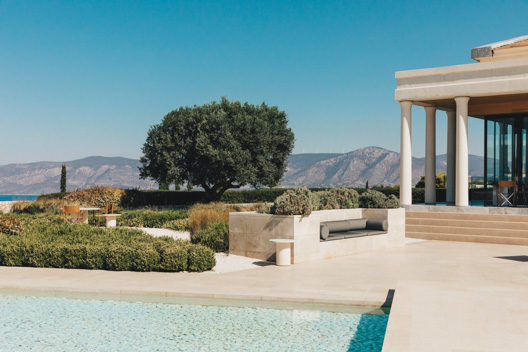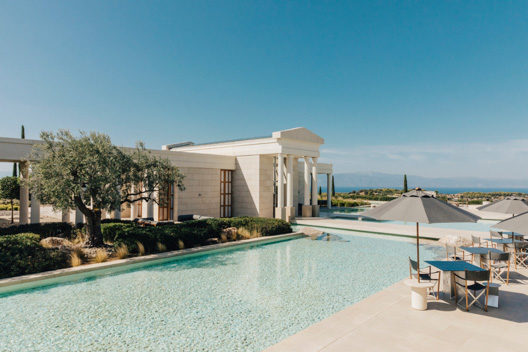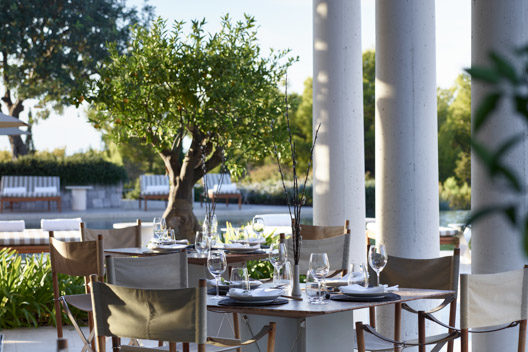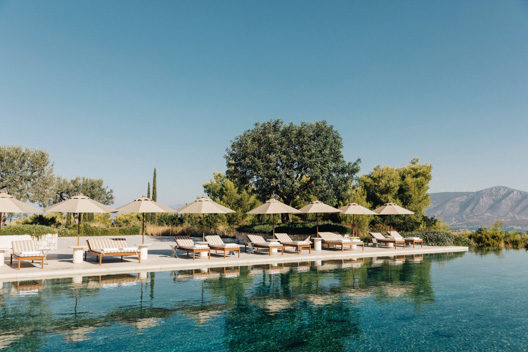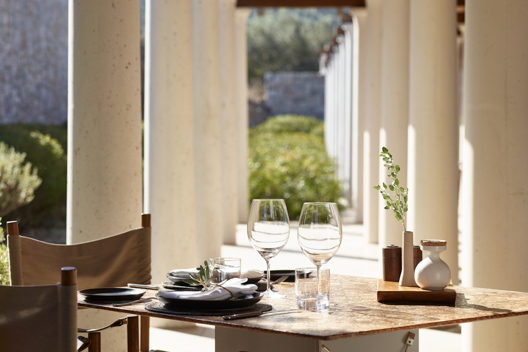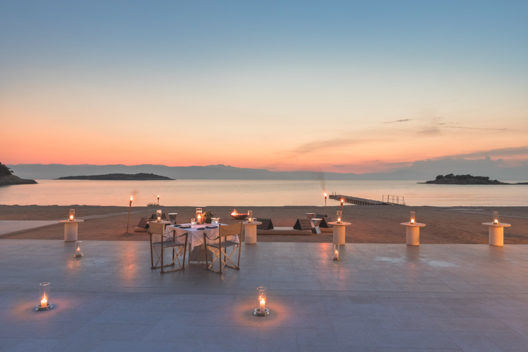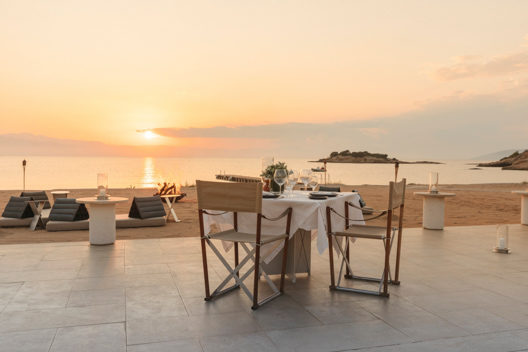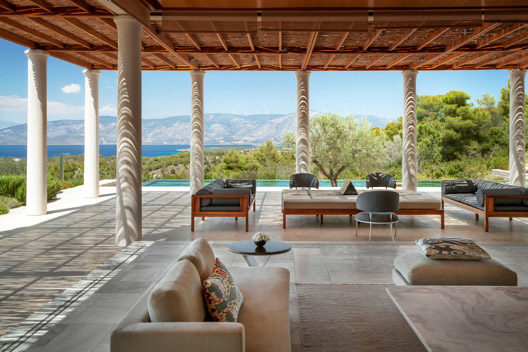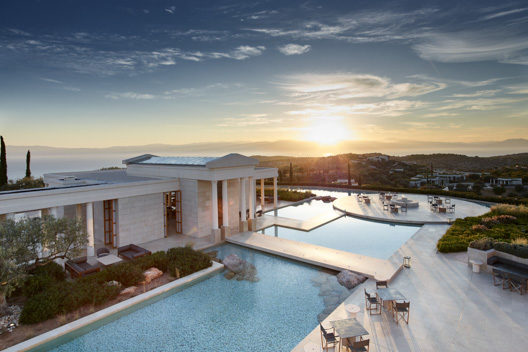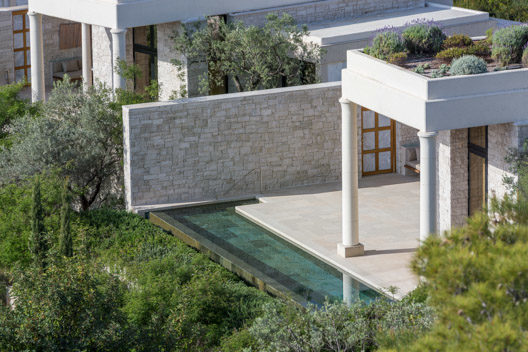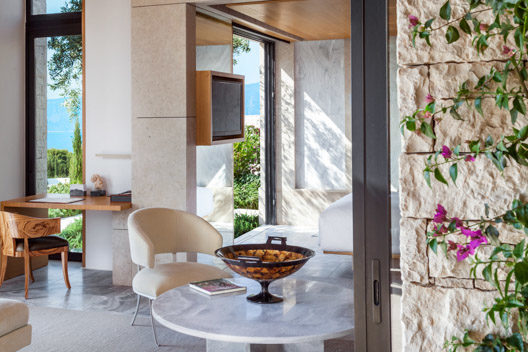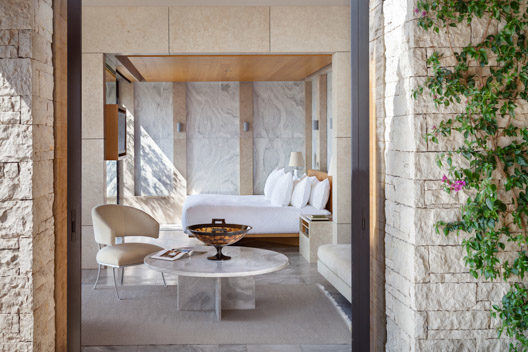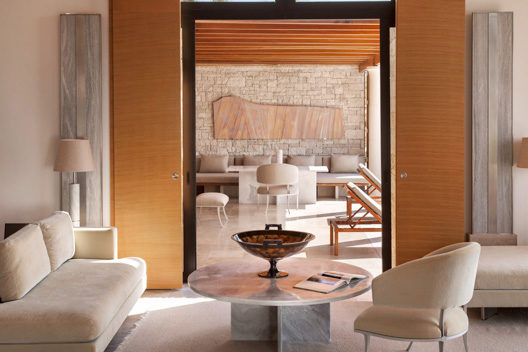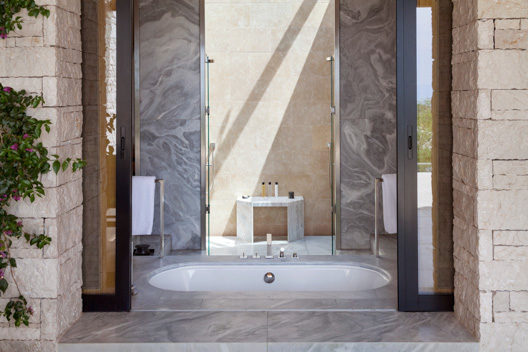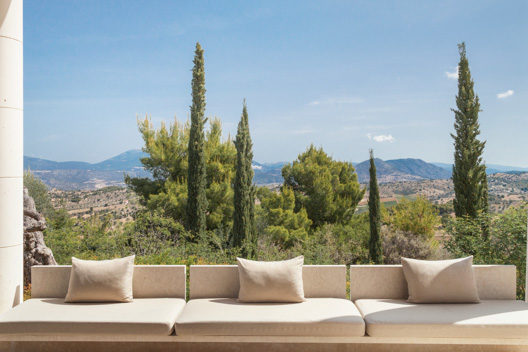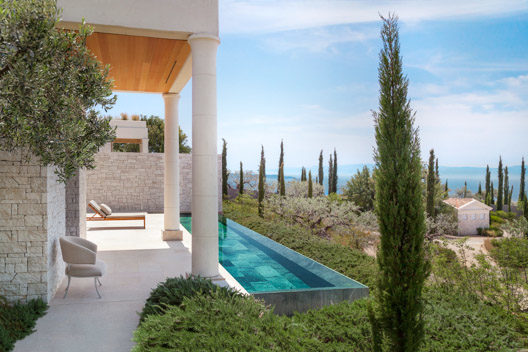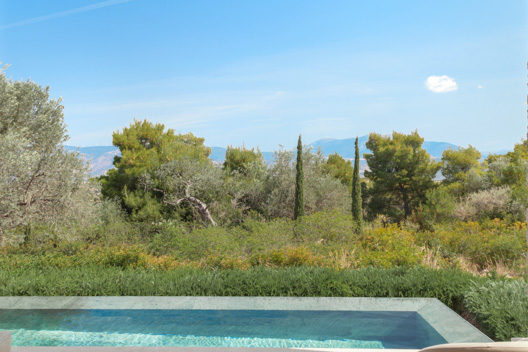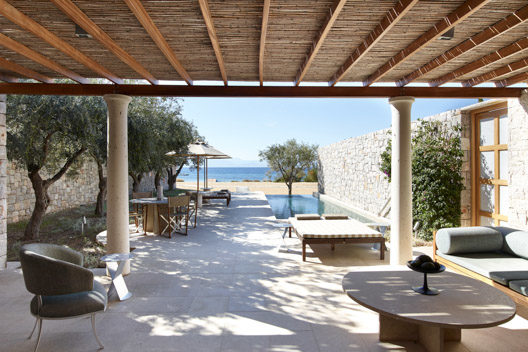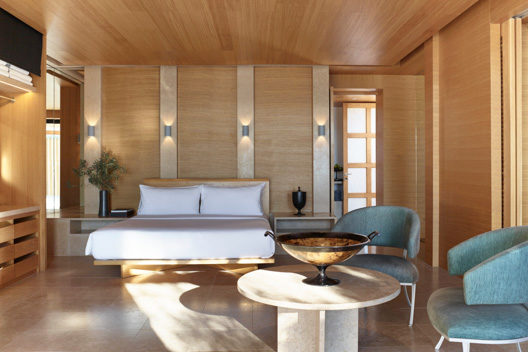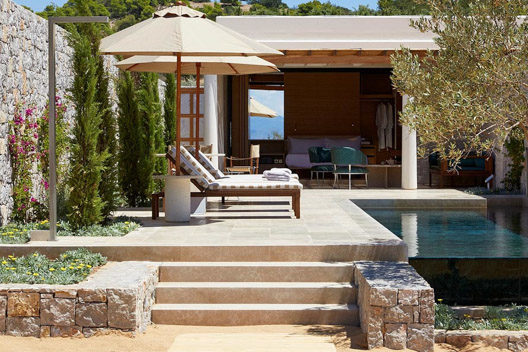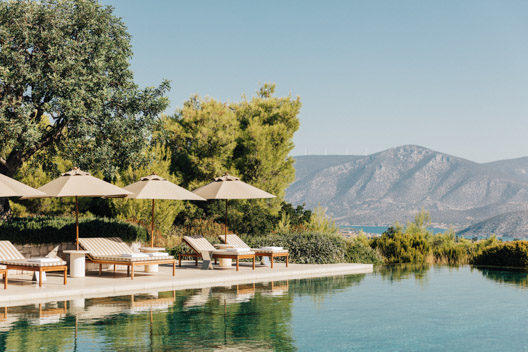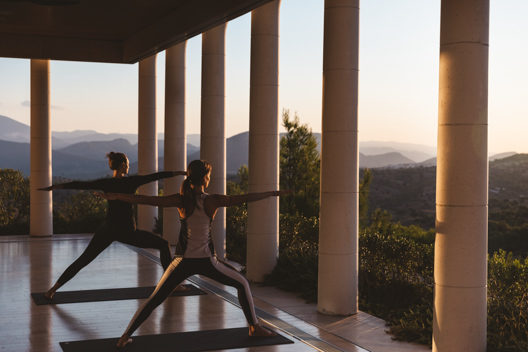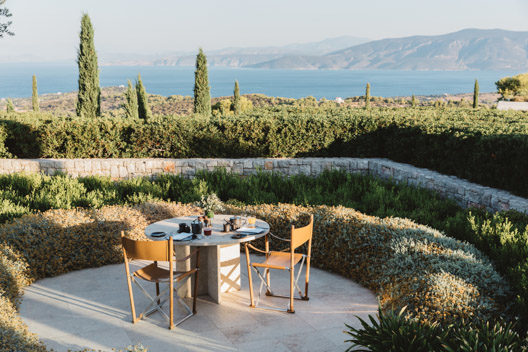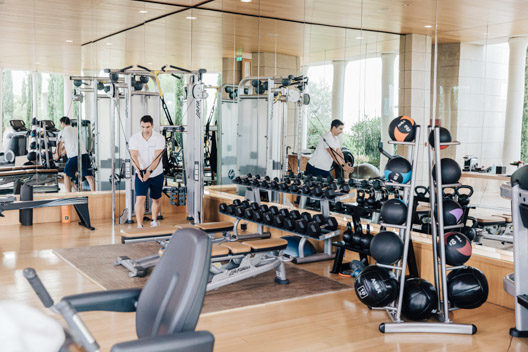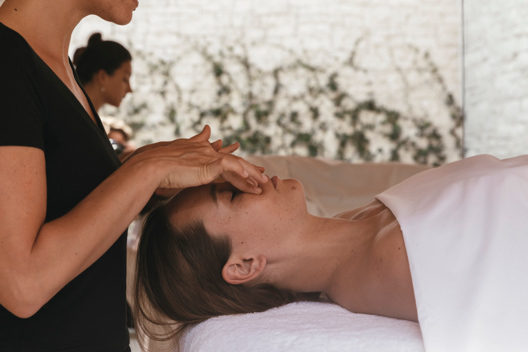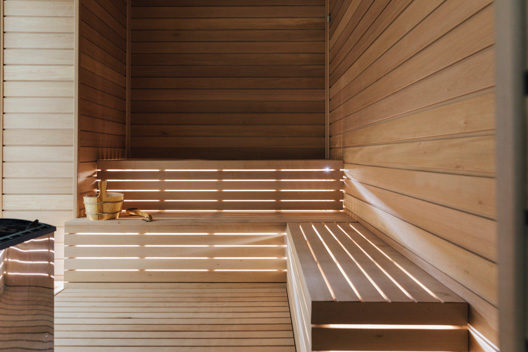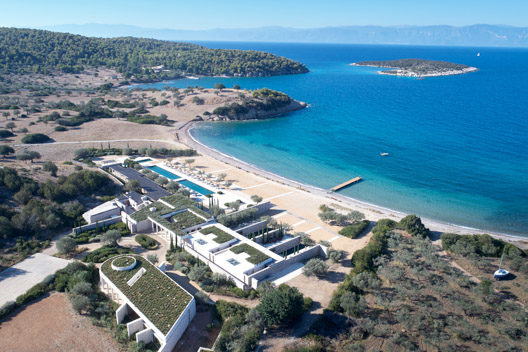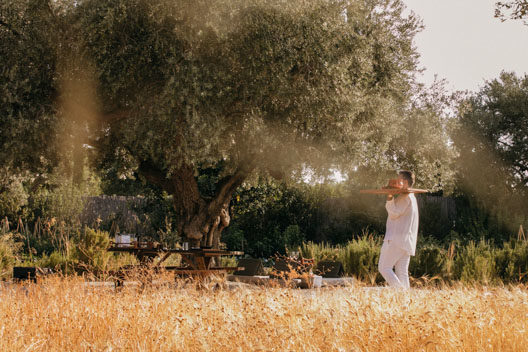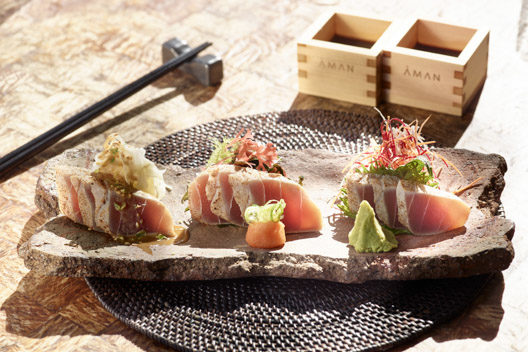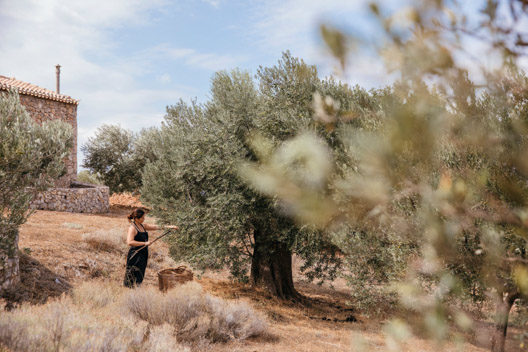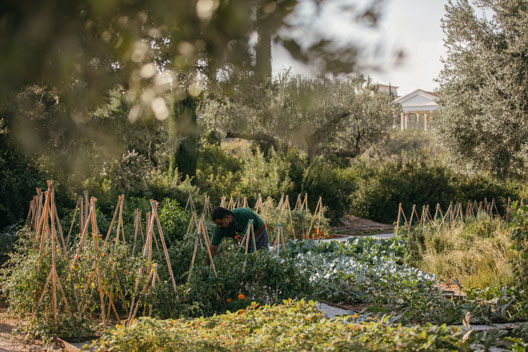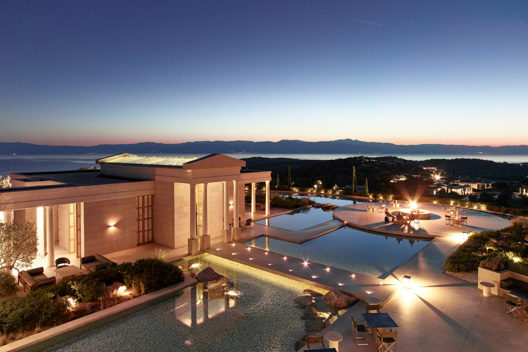 At a glance
With Greek inspired architecture and high-quality materials, Amanzoe's collection of pavilions and villas have been designed to recreate the authenticity of the acropolis for the modern traveler.
Stay in Amanzoe's pièce de résistance, the Villa 20, which accommodates eighteen guests in six 100 sqm suites and three luxury studio apartment bedrooms, and offers a plethora of luxurious and totally exclusive features.
An entire hilltop and private beach for unrivalled space and seclusion with unrivalled panoramic views of the Aegean Sea and the Peloponnese countryside.
The serene Beach Club is a destination unto itself, with no less than four swimming pools, a restaurant and lounging areas, a boutique, several overnight Cabanas and a two-room spa. The Beach Club offers a range of watersports including paddleboarding, diving, windsurfing and speed boat rides to the nearby islands of Hydra and Spetses.
Complimentary transfers take you down to the Aegean, where non-motorised watersports can be enjoyed and you can depart on island-hopping day trips.
Relax at the 2,850 sqm Aman Spa offering excellent spa treatments, Watsu hydrotherapy treatments, beauty salon and restorative yoga classes in the amphitheatre. There are two floodlit tennis courts and a gym.
From The Restaurant's Greek and Mediterranean fare to Nama's Japanese cuisine, Amanzoe places the focus on simple flavours, expertly prepared. Daily deliveries of freshly-caught bass, bream, grouper and shellfish, as well as locally-reared lamb and pork, make Amanzoe a champion of produce that is seasonal and ethically-sourced. Both guests and non-residents are invited to dine at Amanzoe.
Overlooking Amanzoe's magnificent hilltop swimming pool and claiming the same breathtaking views of the Aegean coastline, the Pool Restaurant is open daily for lunch. The menu features light Mediterranean fare, based on fresh vegetables cultivated in our organic gardens, local fresh fish and various greek seasonal delicacies.
Open for lunch, the Beach Club restaurant is a casual venue offering barefoot, poolside dining with ocean views at its very best. Enjoy a traditional, Greek taverna-style menu with a wood-fired pizza oven at its heart.
The Bar offers a cocktail menu inspired by mediterranean spring and summer essence, infused with local herbs and aromatics. Boasting wraparound floor-to-ceiling doors open to the elements in summer, and cosy fireplaces for the cooler months, the Bar also offers a firepit terrace for sunset drinks.
Enjoy a Greek degustation menu in Amanzoe's open-air Amphitheatre, which offers space and privacy within a curving stone embrace beneath the stars.
The rates shown, represents the minimum rate for the Pool Pavilion per night in low season. We only make reservations on request, meaning our personalised offers are guaranteed to be the best available, and exclusive to our guests.
Enjoy the local area
Amanzoe commands 360-degree views of the Peloponnese countryside and rocky coves. The property lies within easy reach of a wealth of archaeological sites and the cosmopolitan island of Spetses.
Location
Secluded hilltop position with panoramic views
15 minutes' drive from traditional fishing villages
A short boat ride from the islands of Spetses and
car-free Hydra
50 minutes' drive from the ancient amphitheatre and Unesco World Heritage Site of Epidaurus
An hour's drive from the seaside town Nafplio,
Getting There
2.5 hours' drive from Athens International Airport
25 minutes by helicopter from Athens
Direct flights available from all major European and selected international cities former capital of Greece
Archaeological sites
50 minute drive from the ancient city of Epidaurus, a Unesco World Heritage Site, with a theatre still used for performances every summer.
1.5 hours' drive from the Unesco-protected archaeological site of Mycenae, prehistoric kingdom of the mythical Agamemnon
Nafplio
An hours drive from Amanzoe, the seaport town of Nafplio was modern Greece's first capital
Monasteries
The abandoned Byzantine monastery of St Dimitrios is built into the rock-face on the lower slopes of Mount Avgo, near Pelei, around 30 minutes' drive from Amanzoe.
Also nearby, St George at Didima – a small but imposing church with lovely views – is signposted by meteorite holes in the road
Island Hopping
Charter one of Amanzoe's high-speed watercrafts for a full- or half-day tour of the uninhabited isles and secluded coves off the coast of the Peloponnese peninsula.
Take a trip to the pretty island of Spetses, known for its seafaring traditions and Venetian and neoclassical architecture Visit Hydra, a car-free island famed for its vibrant dining and nightlife scene.
The property's boats include the powerboat Amanzoe One, and Aquazoe, a Pershing 62.
Trekking
The Peloponnese landscape is a delight to explore on foot. Highlights include the paleolithic Franchthi cave, reached by a coastal hike (about 15 minutes long) 20 minutes' drive from Amanzoe.
Lighter treks include visits to the Bisti forest (20 minutes' drive away).
Other options include a 2.5-hour trek from the mountain village of Iliokastro through pine forest to Fourni village, and a light circular trek from Fourni to Katafiki Gorge.
Culinary Discovery
Sample the region's famous citrus fruits, sweet olives, diverse seafood and wine.
Visit a local beekeeper and honey museum.
Learn about Greek wine with an Amanzoe tasting session, or at a local vineyard.
Facilities
General

Access to thermal area
Air Conditioning
Bathtub
Breakfast included
Coffee maker
Flatscreen TV
Hairdryer
Heating
Housekeeping
Minibar
Safe
WIFI

Optional Services

Activity planning
Babysitting
Beautician
Boat charters
Car Rental Service
Concierge Service
Cooking class
Dry cleaning service
Hairdresser
Laundry service
Massage services
Personal trainer
Private excursions
Restaurant reservations
Room service
Water sports services
Wedding service

Outside

Bar
Dining Area
Garden
Outdoor restaurant
Private pool
Sun Loungers
Sundeck
Swimming pool
Terrace

Linen & Supplies

Bathrobes
Bathroom amenities
Pool Towels
Slippers
Towels

Entertainment & Experiences

Beach club
Boutique
Fitness
Hammam
Helicopter Pad
Helicopter services
Library
Private excursions
Restaurants
Sauna
Spa
Swimming pool
Tennis court
Water sports
Yoga

Remaining

Celebration venue
Pets allowed
Wheelchair Accessible