The perfect setting for a family reunion, a once-in-a-lifetime holiday with friends or an intimate destination wedding—and the honeymoon after.
- Exclusive Private Castle
- Breakfast included
- Nine Suites
- 2 Infinity pools
- Daily Housekeeping
- Organic Garden
- Air Conditioning, Heating
- Al Fresco dining
- Wood Burning Fireplace
- Rooftop Terrace
- Hiking Trail
- Two Kitchen Gardens
- Unique Experiences
- Non alcoholic beverages included
Privacy, peace and tranquility
Immerse yourself in the Maremman countryside at Castello di Vicarello. One of the premier boutique properties in Tuscany, this luxury vacation affords the amenities of a luxury hotel with the private feel of a residence.

There are five bedrooms in the main house and four in the garden suites that can be rented in two different blocks – each block with its own private infinity pool. All nine have en-suite bathrooms and several have features like private entrances, lounge areas, kitchenettes and terraces. In the main house, there are four bedrooms with king beds and one with a queen bed. The garden suites have four bedrooms with king beds.
Though the property dates back to the 11th century, its charming architecture has been given modern updates such as a sound system, Wi-Fi, air conditioning and heating. You will feel like you've stepped back in time, eating in dining rooms with exposed wood ceiling beams, stone walls and cozy leather club chairs.
The kitchen serves local specialties from the two kitchens or from the barbecue in the al-fresco dining area, under the stars or while watching the sunset from the rooftop terrace.
The estate itself offers the opportunity to learn about local produce in the kitchen gardens, take a course in the medieval kitchen or even help with the grape and olive harvests, giving you a sense of the rhythms of Tuscan life.
If you can't get enough of the region, it's a 90-minute drive or less to the city of Siena and several beaches on the Mediterranean shore.
Gallery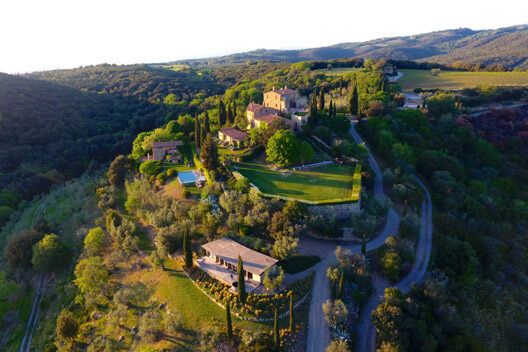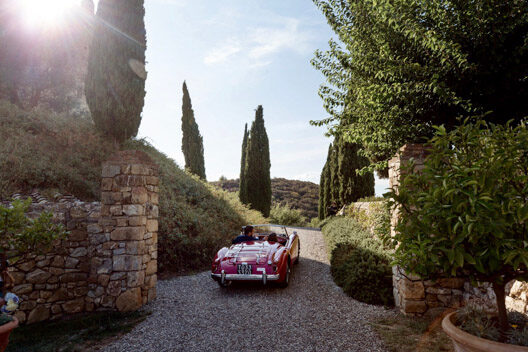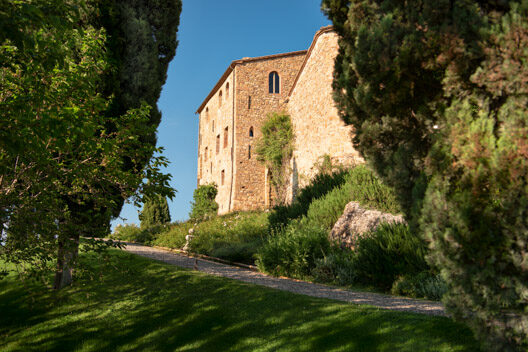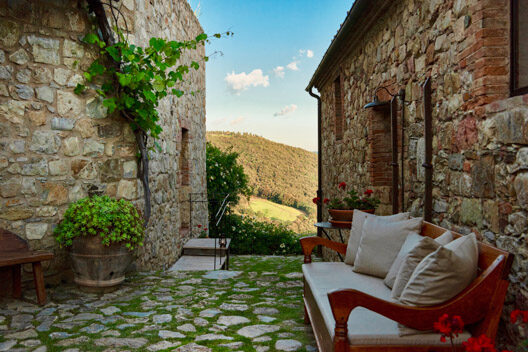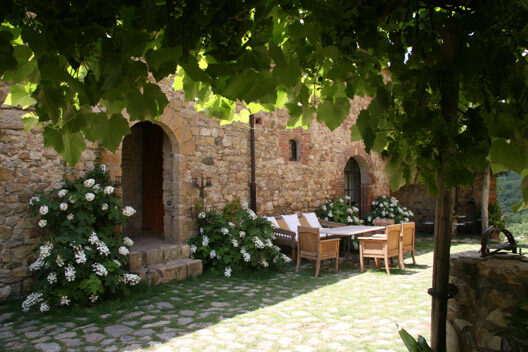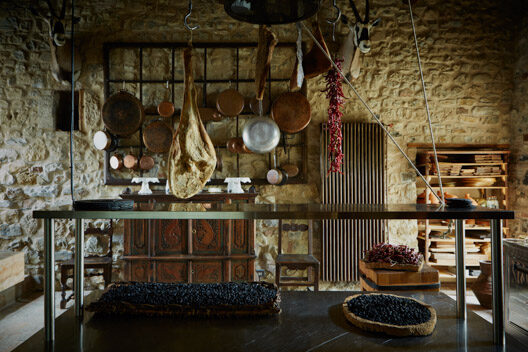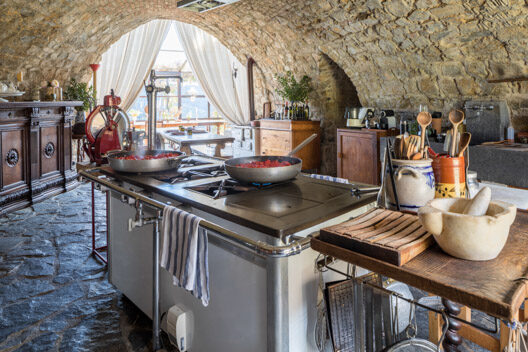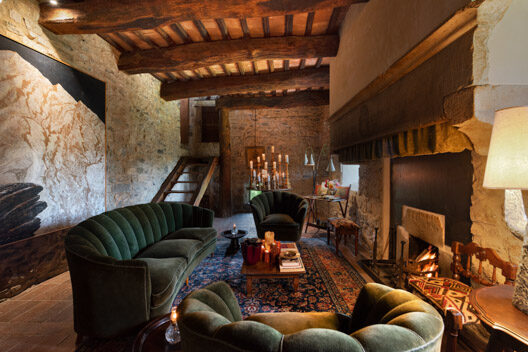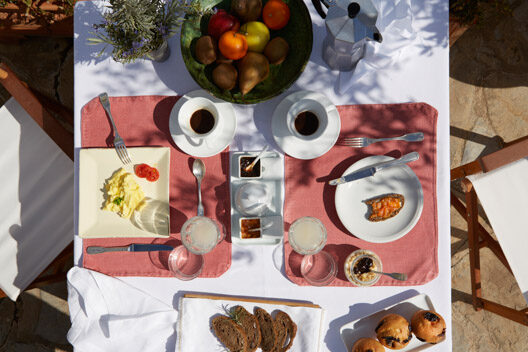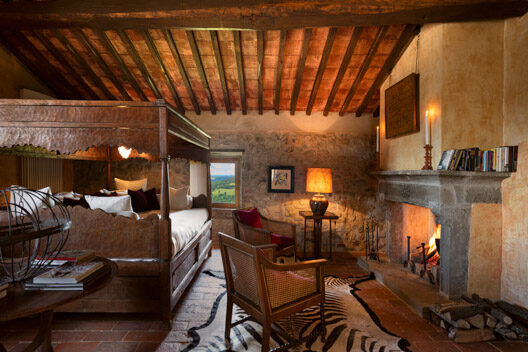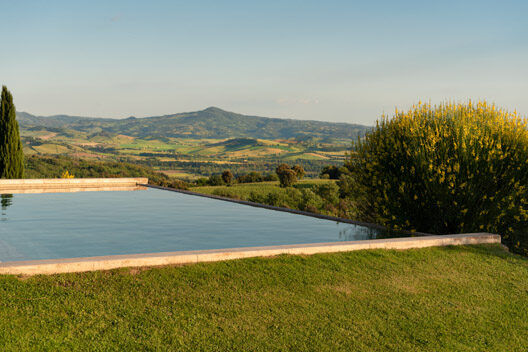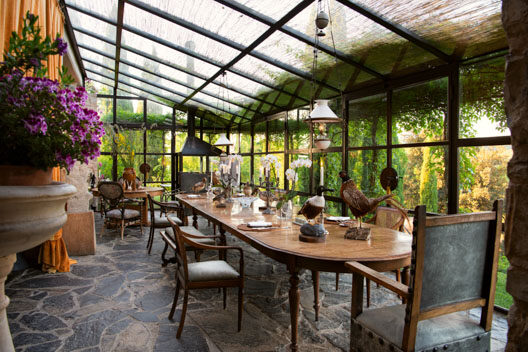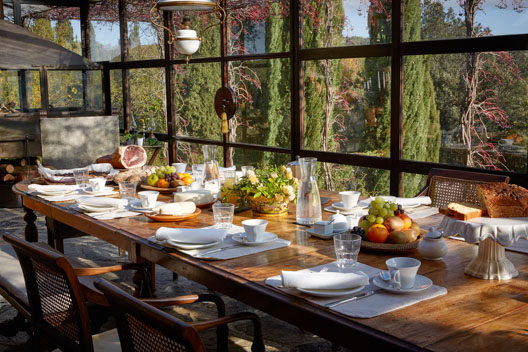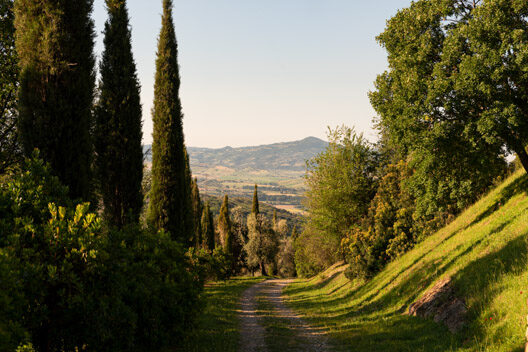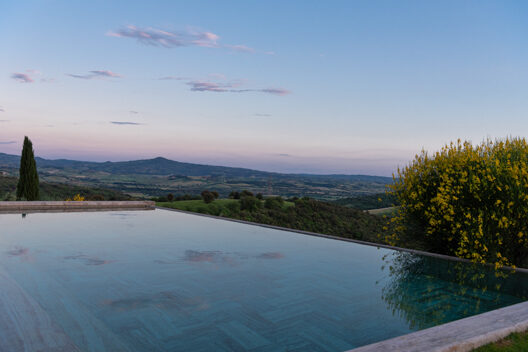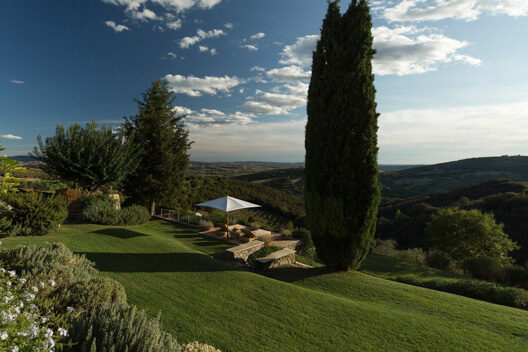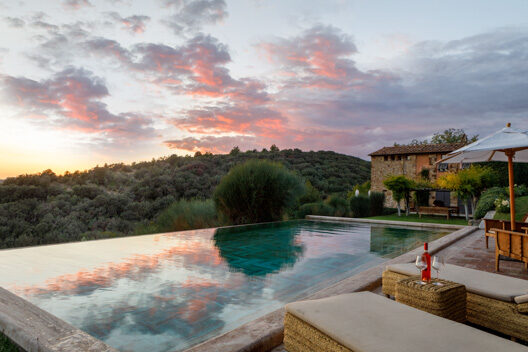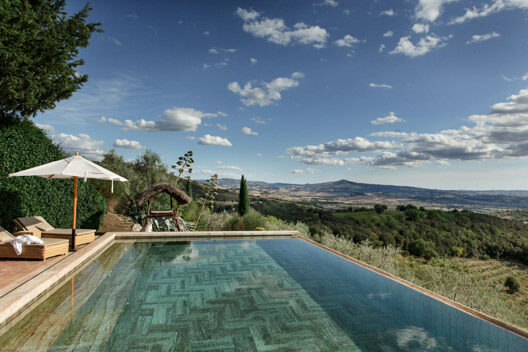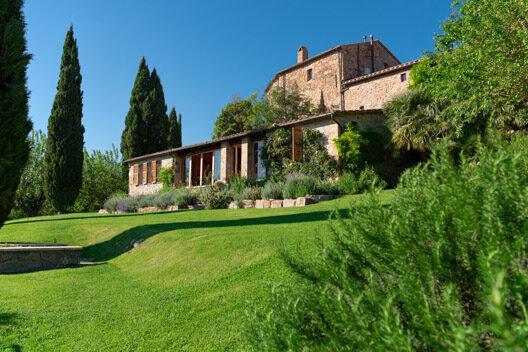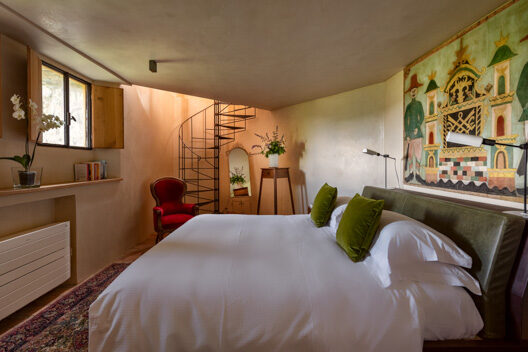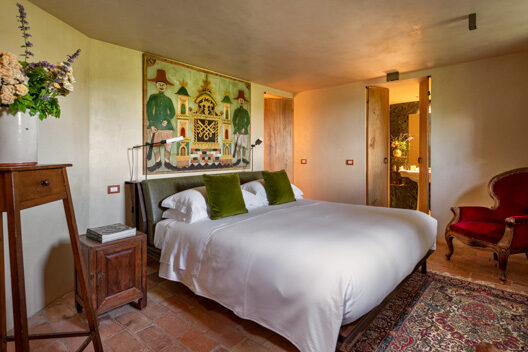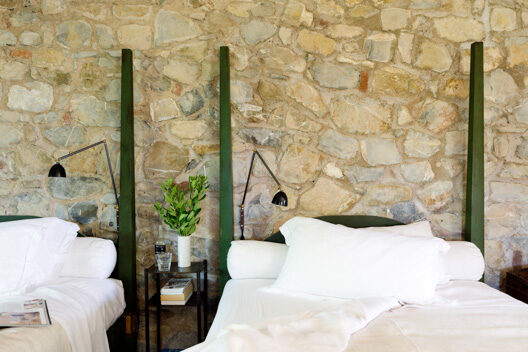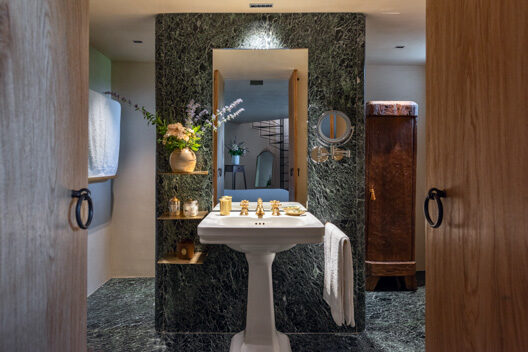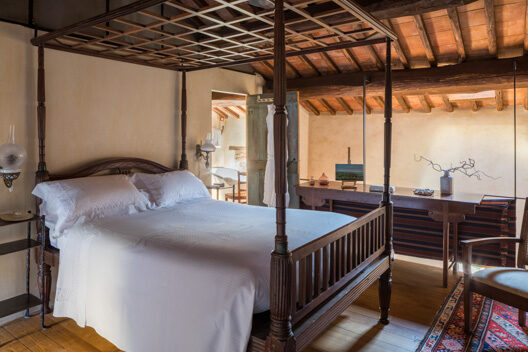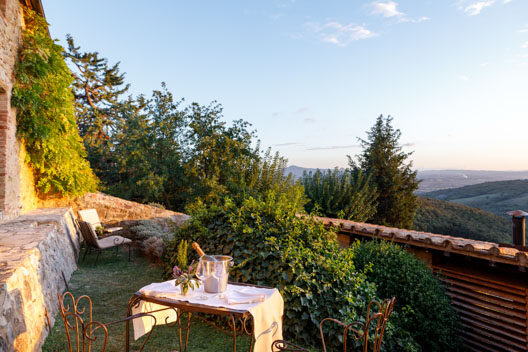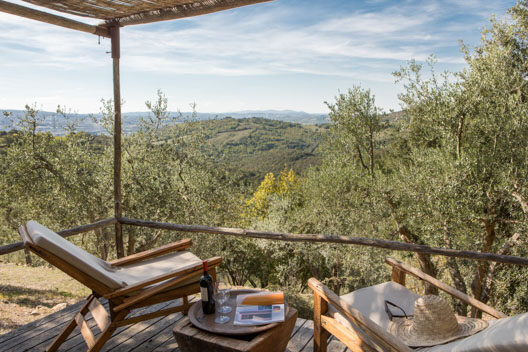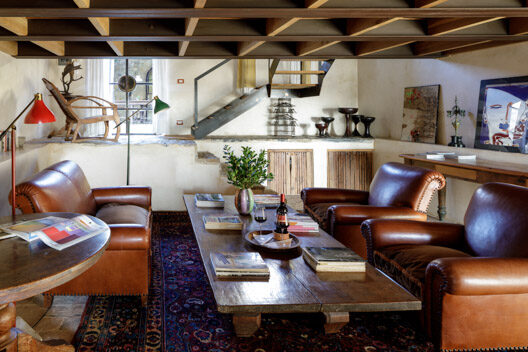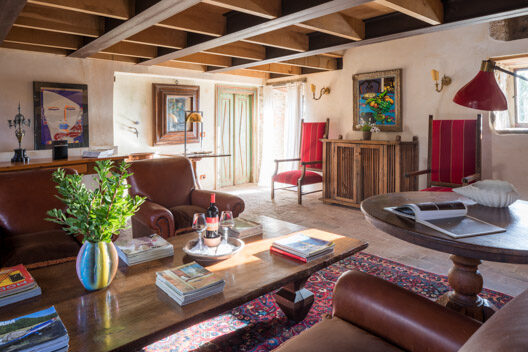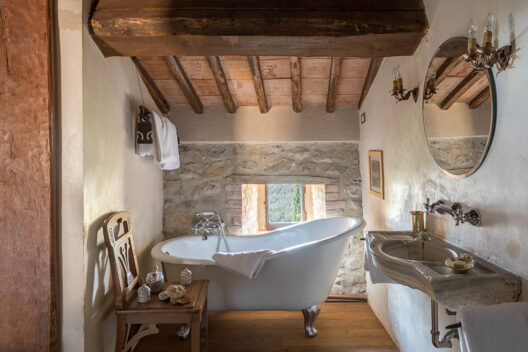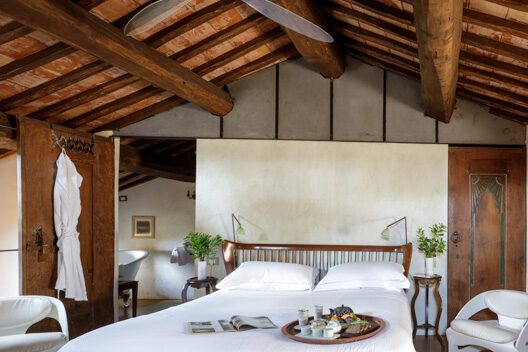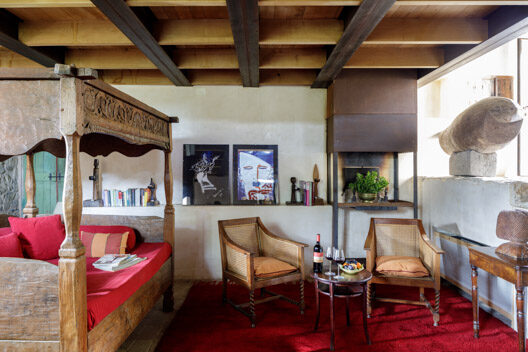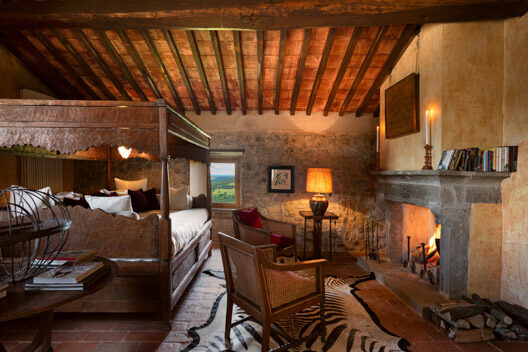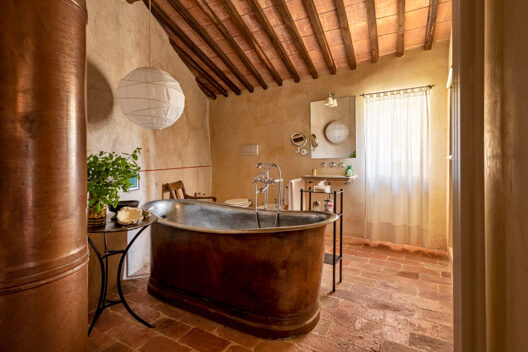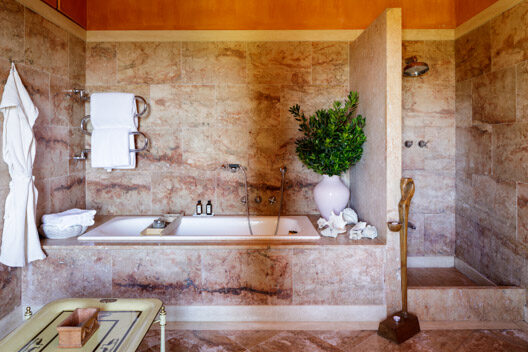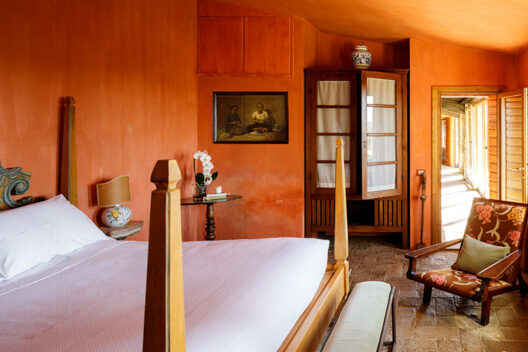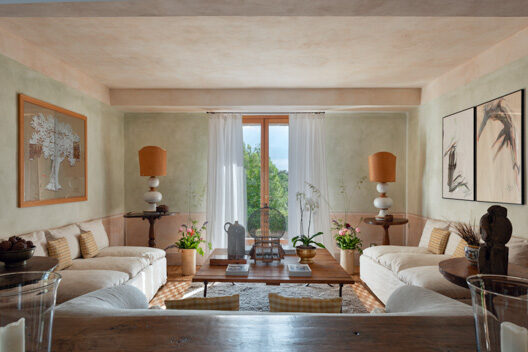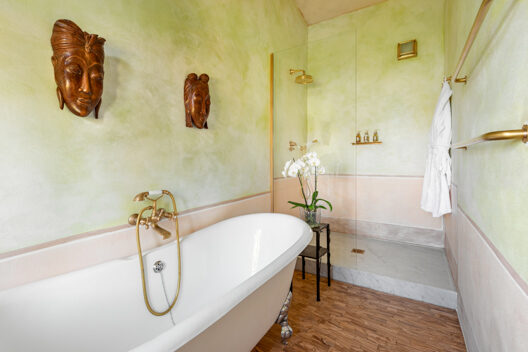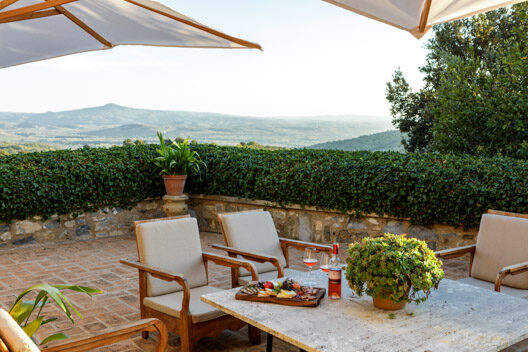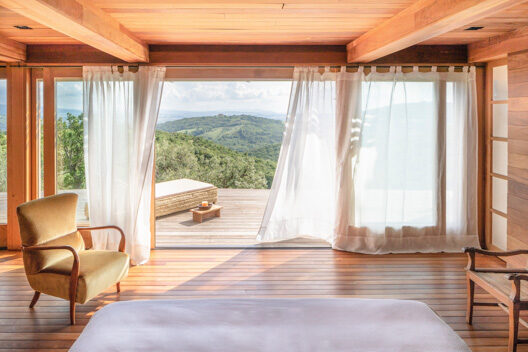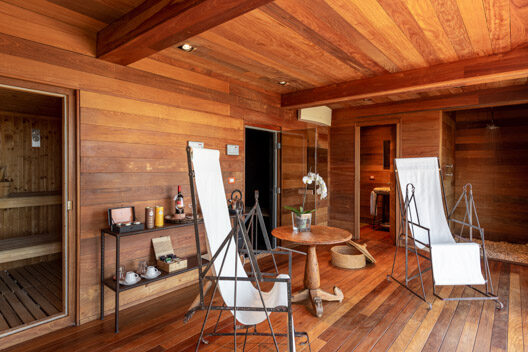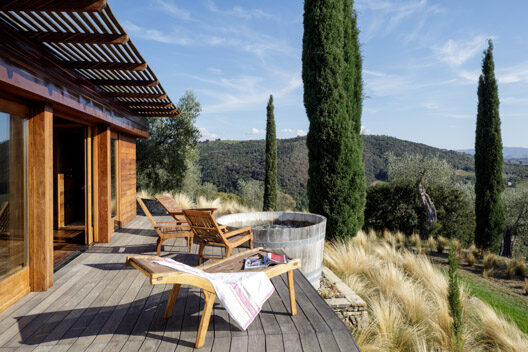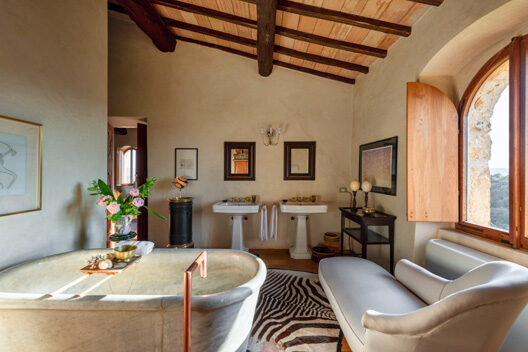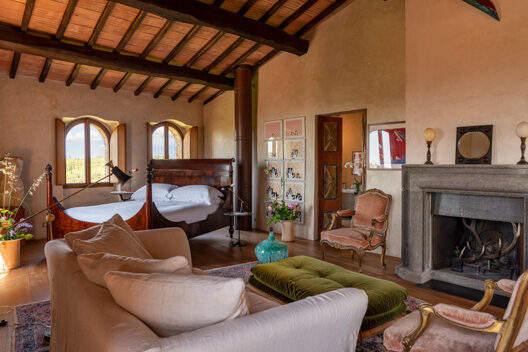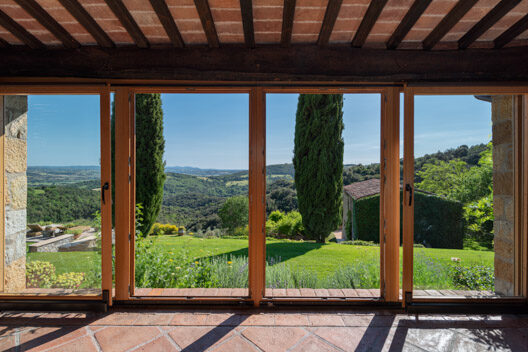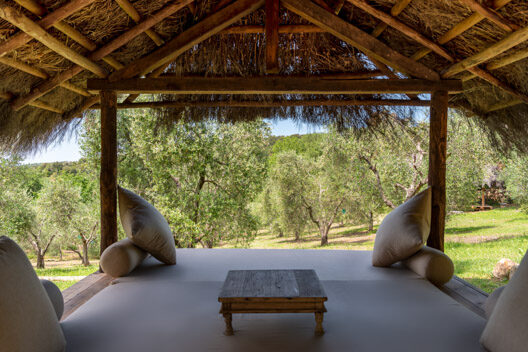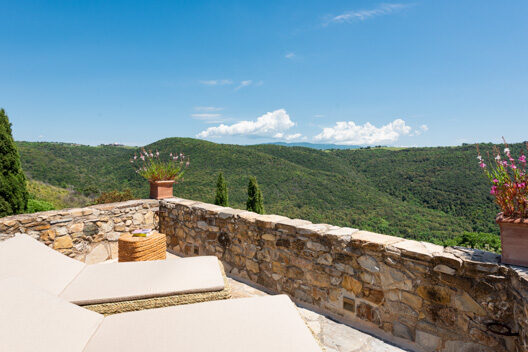 At a glance
Rent your own Tuscan Luxury Estate including nine suites spead across a 40 hectare estate. Located in the heart of Tuscany's wild Maremma countryside, located between Rome and Florence, surrounded by organic vineyards, olive groves, and farmland.
Main Castle with five suites; Levante Suite, Suite Vicaro, Suite Sprone, Suite Giardino Segreto and Suite Torre.
Garden Villas: Suite Sassi, Suite Villa Chiesina, the Spa Suite. Additional bedding for up to 4 guests can be accommodated.
Antique furnishings rub shoulders with contemporary artwork, ancient Italian ceramics sit happily alongside Indonesian antiques, and state of the art lighting illuminates ornately carved timber and rugged stone.
Relax by the infinity pool and take in the stunning views of the surrounding valley or seek total isolation at the second pool set amongst an olive grove.
It is possible to book a relaxed private yoga class amidst the tranquil country estate. Sooth the mind, body and soul whilst immersed in unspoilt countryside with enchanting views of the Maremma region.
Spend your days getting a taste of the Tuscan country lifestyle by hiking around the nearly 40 hectares of private land, learning about the award-winning wine produced on the estate, enjoying a massage at the al-fresco spa or a cooking class in the famous kitchen of Castello di Vicarello.
Pets are allowed (small dogs) for additional costs and on request. Please include this when making an inquiry.
Check in from 3 pm and check out noon.
Book for additional costs; Wine & spirits, Lunch (12.30-2.30 pm), Dinner (7.30 - 11.30), Spa treatments, Cooking Classes, Fitness & Yoga, Ironing & Dry-cleaning services, Airport transfers – both limousine and helicopter, In-house wine tasting.
Rates of the exclusive Villa Rental, nine suites; March, April, November for 18 guests (maximum occupancy 22 guests) from € 12000,- euro. May-October for 18 guests € 14000,- euro. A third person per room € 150,- euro.
It is possible to rent the partial villa rental - 4 garden suites for 8 guests- at a starting price of € 6200,- euro per day (March, April, November) with minimum stay of two nights and € 7200,- euro per day with minimum stay of three nights. Rates for a third person per € 150,-.
This partial villa rental involves Suite Chiesina, Suite Sassi, Suite Grotta, Suite SPA and the infinity swimming pool at exclusive use.
The rates are per night for a max. of 18 guests (and max 10 guest for the partial villa rental) and inclusive American breakfast, Internet WIFI connection, parking place soft drinks from your minibar, service and the current applicable VAT, presently at 10%.
Kindly note that the Castello Di Vicarello requires a minimum spending of € 2500 per day on food and beverages (€ 1250,- euro when rental the partial villa)
Enjoy the local area
Florence and Pisa Airports are just under a two-hour drive to Castello di Vicarello.
Nice places to visit by car
75 minute to Siena
1.5 hour to Theral Bath San Filippo
1.5 hour to Thermal Bath Saturnia
2 hour to Firenze
2.5 hour to Rome
2.5 hour to Pisa
3.5 hour to Cinque Terre
Beach Acces by car:
1 hour to Castiglione della Pescaia
1.5 hour to Punta Ala
1 hour to Monte Argentario
Facilities
Optional Services

Activity planning
Airport transfers
Babysitting
Concierge Service
Cooking class
Dry cleaning service
Extra bed
Hiking
Laundry service
Limo service
Massage services
Personal trainer
Private excursions
Restaurant reservations
Room service
Therapist
Wedding service
Wine tasting
Yoga or Pilates teacher

General

Air Conditioning
Bar
Bathtub
Breakfast included
Coffee maker
Fireplace
Hairdryer
Heating
Housekeeping
Minibar
Safe
WIFI

Outside

Bar
BBQ
Dining Area
Garden
Parking
Rooftop bar
Sun Loungers
Sundeck
Sunshades
Swimming pool
Terrace

Linen & Supplies

Bathrobes
Bathroom amenities
Pool Towels
Slippers
Towels

Remaining

Celebration venue
Pets allowed

Entertainment & Experiences

Helicopter services
Kid amenities
Swimming pool
Wine tasting
Yoga