This romantically positioned boutique hotel offers one of the best views the Amalfi Coast can afford.
- 37 rooms boutique hotel
- Rooftop swimming pool
- Gallis Sky Bar
- Amalfi Coast views
- Fine dining Li Galli
- Gallis Bar
- Air conditioning
- Breakfast included
- Chic wellness center
- Gold Champagne Bar
- Wine cellar
- Show cooking
A dream amid sea and sky on a hilltop position
Welcome to Villa Franca, a five-star hotel on the Amalfi Coast, set high on a hill overlooking the bay. A peaceful enclave just paces away from Positano town center and within easy reach of two nearby beaches (Spiaggia Grande and Spiagga Fornillo), our hideaway villa-style retreat enjoys an unabashedly romantic setting that is both centrally located and yet utterly secluded.
The thoughtfully designed rooms and suites fuse pared-back simplicity with clever detailing that references both the landscape and local heritage of the Amalfi Coast. Whether you are lazing about on a poolside sun lounger or basking on your very own private terrace, enjoying a romantic dinner in our gourmet Li Galli Restaurant or watching sunset with a cocktail in hand, every moment at Villa Franca is meant to be a special one. Which is why our team of caring, dedicated staff are always on hand to make sure you have everything you need.
This romantically positioned boutique hotel offers one of the best views the Amalfi Coast can afford. Whether staring out to the sea from your balcony during the day or marvelling at the lights of Positano by night, the panoramas from HVF Villa Franca Positano are as good as it gets.
The different types of rooms are HVF Classic room, HVF Superior room, HVF Deluxe room, HVF Room, HVF Studio, HVF Terrace Suite, HVF Junior Suite, HVF Master Room. The rooms and suites are spread across two elegant villas. Each room is unique, but all share our signature style of luxurious, contemporary décor and are filled with carefully chosen furniture of the highest quality.
Gallery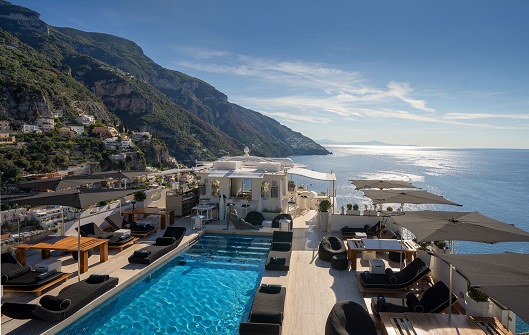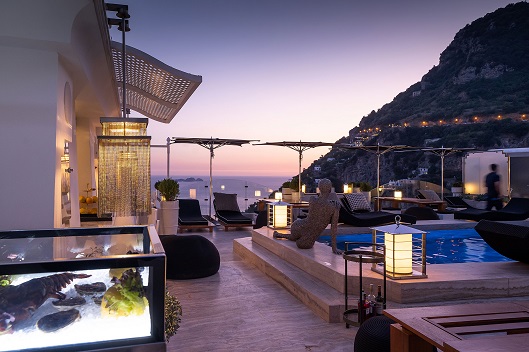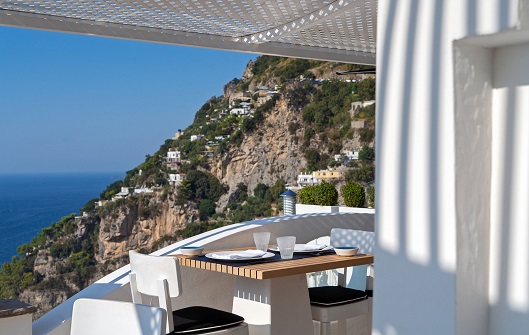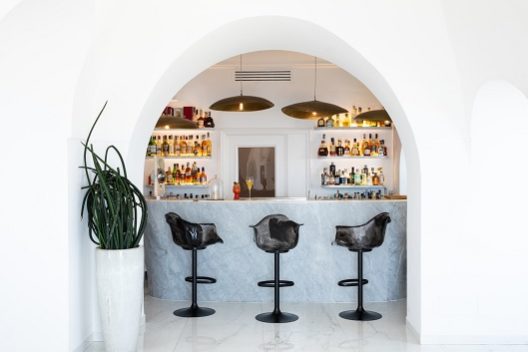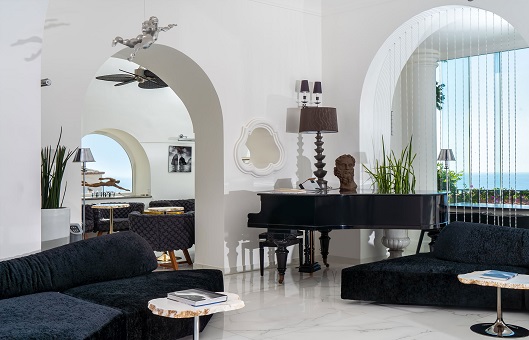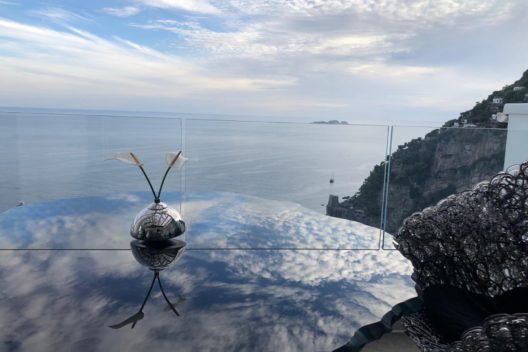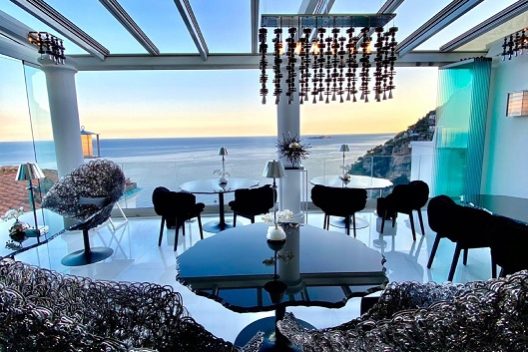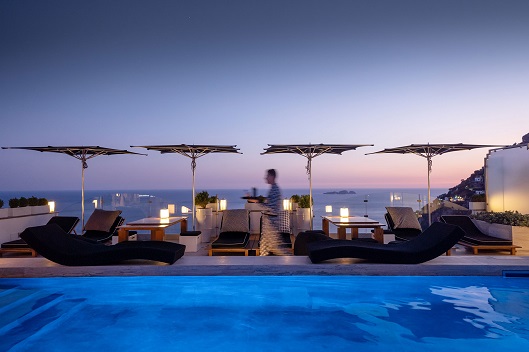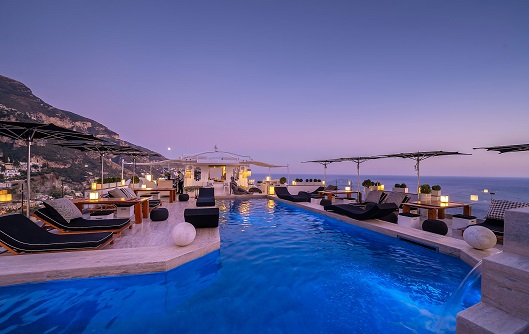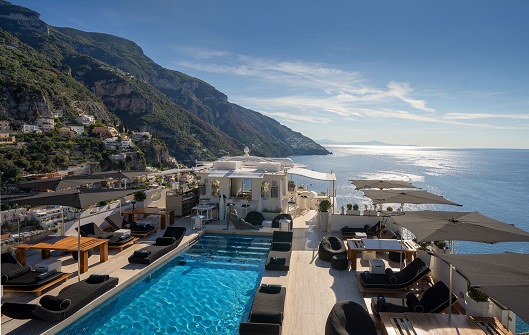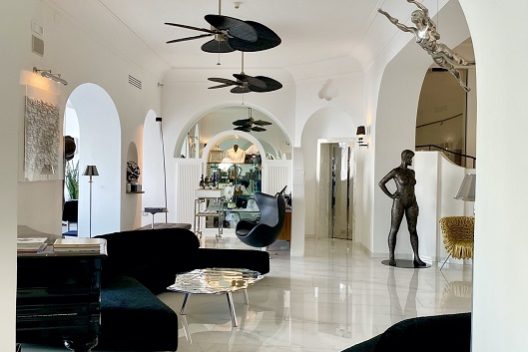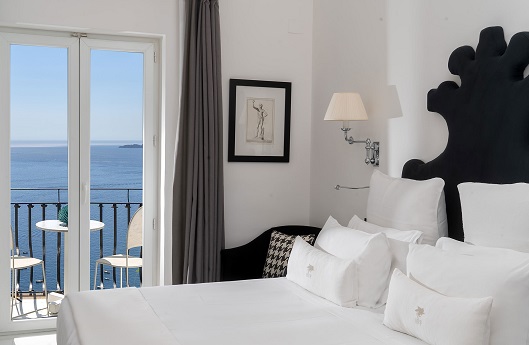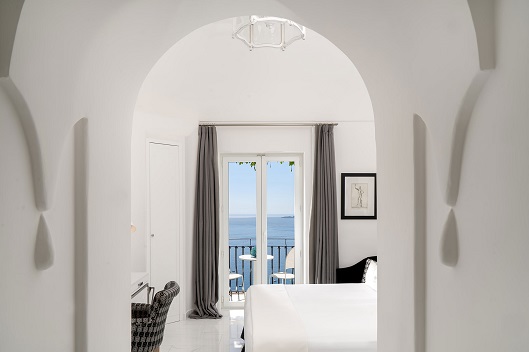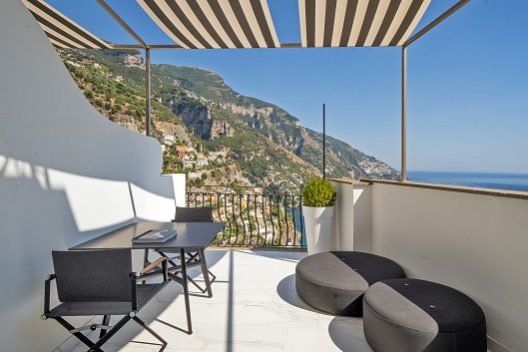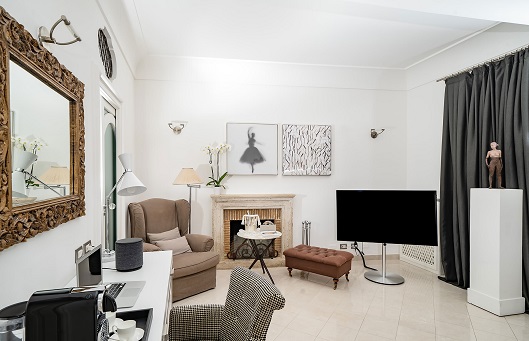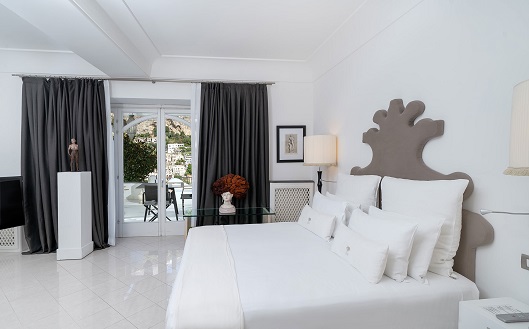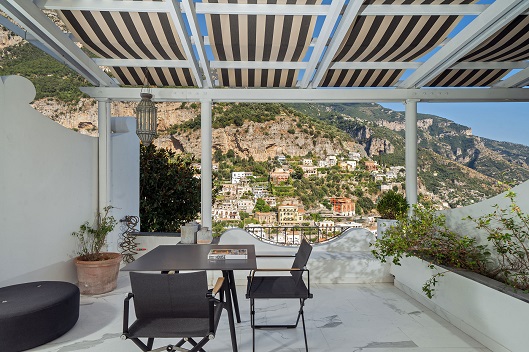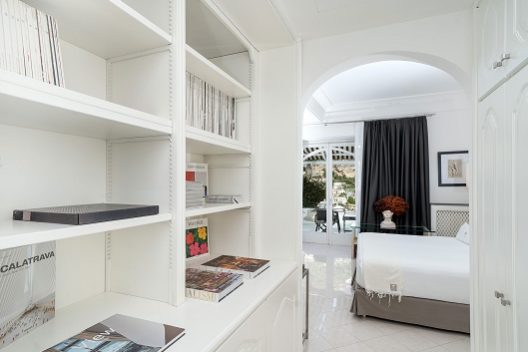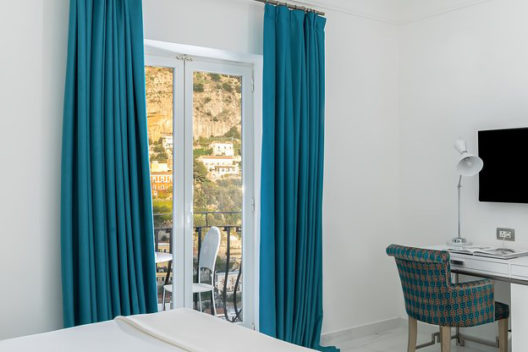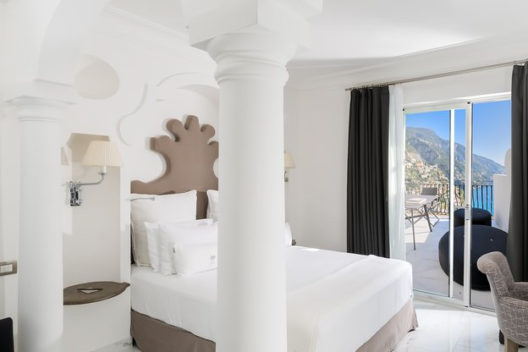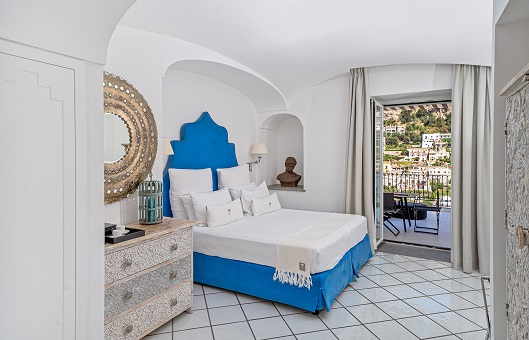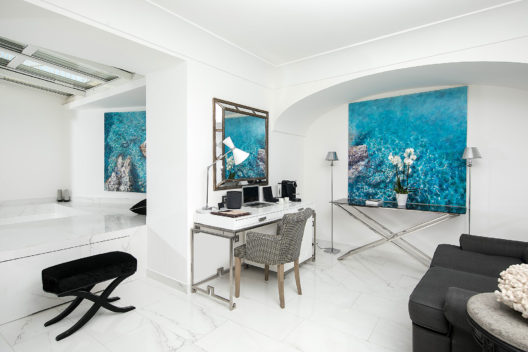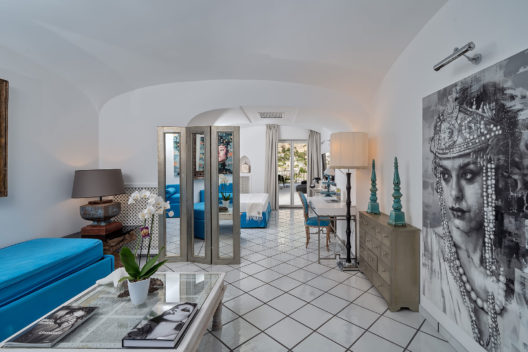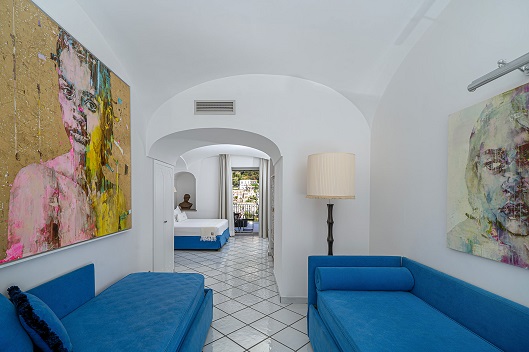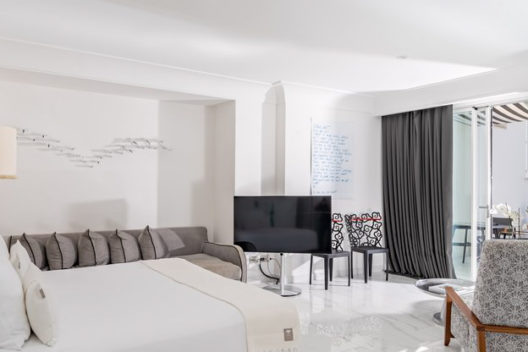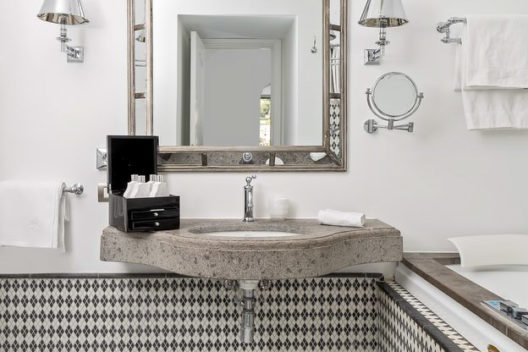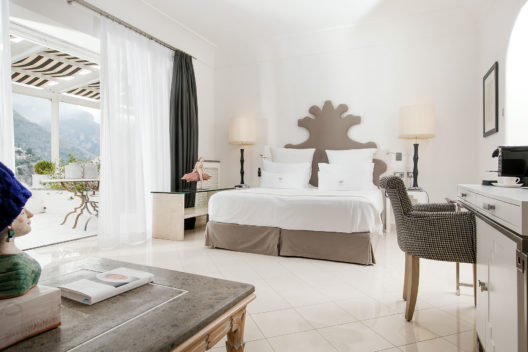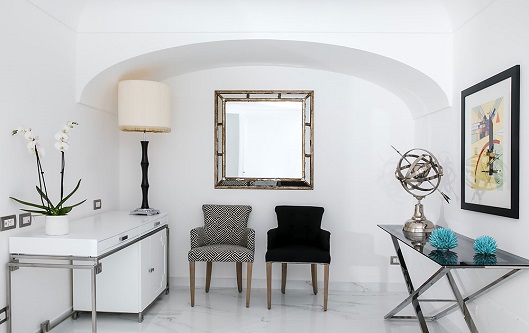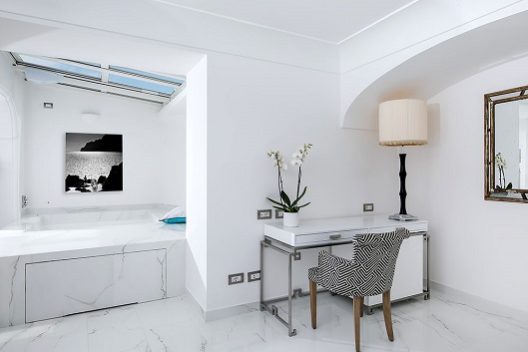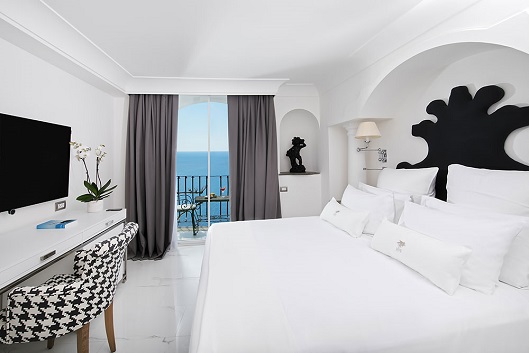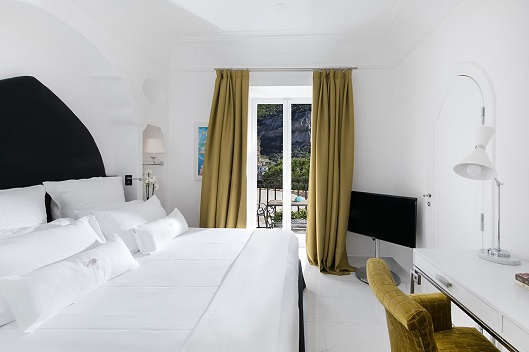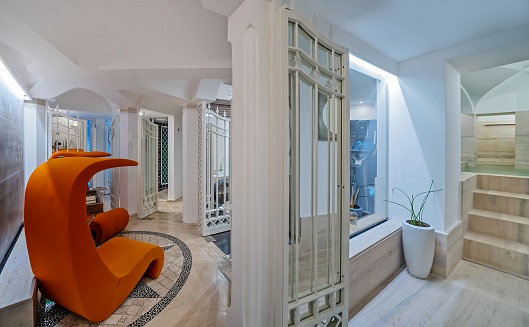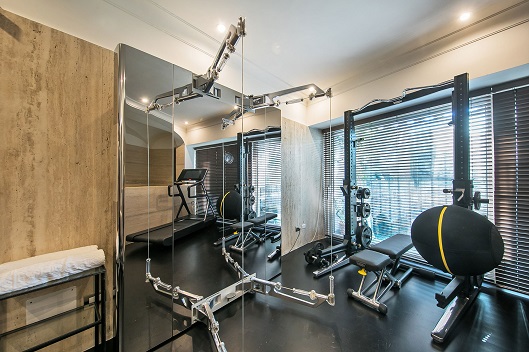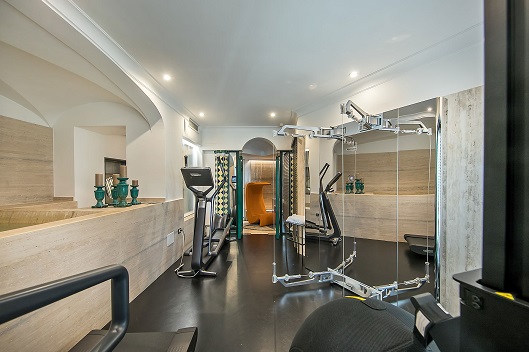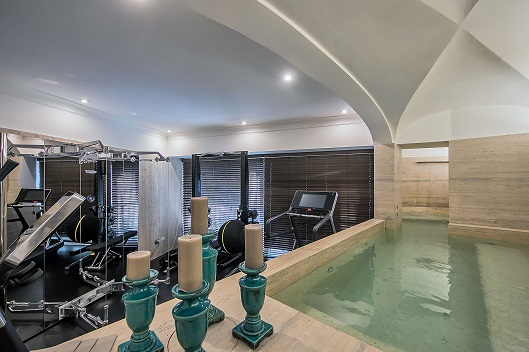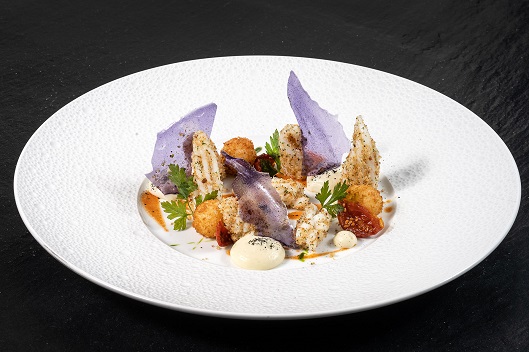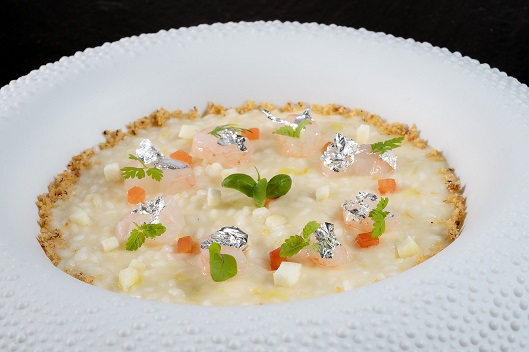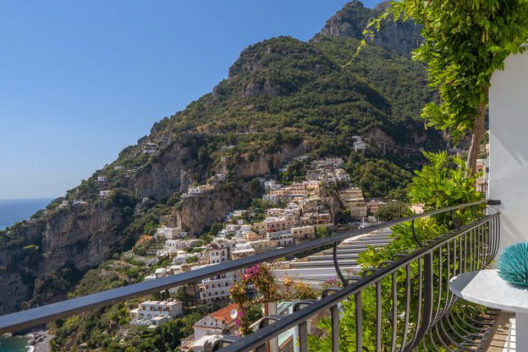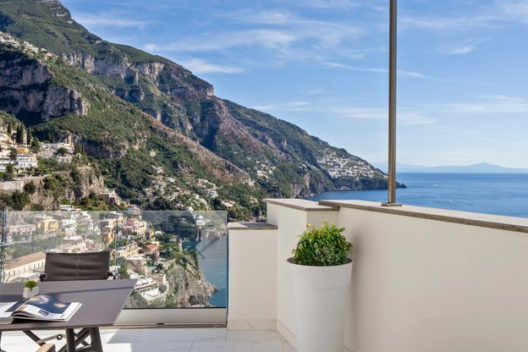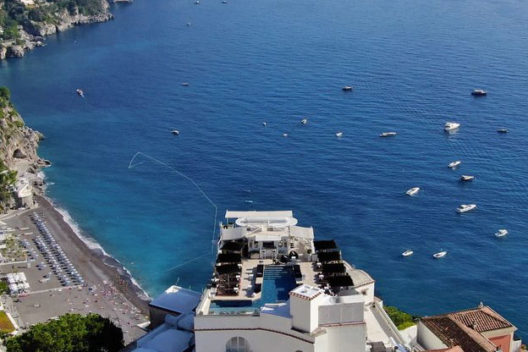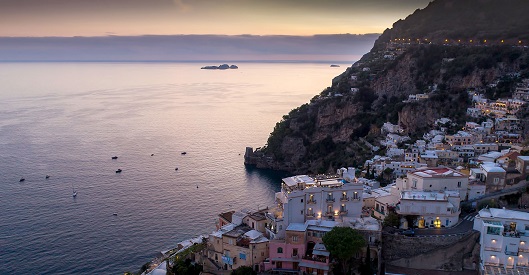 At a glance
Artfully refashioned boutique hotel with 8 different room types, all with a balcony or a terrace offering spectacular views of the Amalfi coastline, the rich blue sea, and the charming cobbled streets of Positano.
Relax at the swimming pool, set on a high terrace ensconced by panoramic views of the surrounding ocean and pretty Positano, is a place you won't want to leave in a hurry
Plunge into the mirror-clear waters from one of Positano's two beaches. Spiaggia Fornillo and Spiaggia Grande, are both just a few minutes away. If you don't feel like walking, catch a ride to either beach on our free shuttle bus for hotel guests.
Enjoy a gourmet breakfast brought directly to your room. In the evenings, when the sun is setting, head out to your balcony or terrace for an aperitif as the stars start to twinkle in the clear sky above.
For casual dining, sit down for a pool-side bite at Li Galli Grill, set on a terrace high above the sea and town. Enjoy the spectacular views and the sensation of the pleasant Amalfi breeze as you dine.
For a gourmet dining experience that embodies the sophistication of the Amalfi Coast, look no further than Li Galli Restaurant. The exceptional view from both the indoor and outdoor dining areas here is matched only by the exquisite dishes, which exalt prized regional ingredients.
A deluxe spa on the Amalfi Coast, the chic wellness center is a place of solace for the tired and over-worked. It also offers rejuvenation to anyone who wants to put a spring back in their step. f you want to embrace your energetic side, have our personal trainer devise a tailored-to-you exercise program before working up a sweat with a session in our cardio room. If it is all-out relaxation you seek, head for our traditional Turkish bath or opt for any number of tension-reducing massages, body and facial skin therapies and beauty treatments.
The well-stocked wine cellar is one of HVF Villa Franca's most prized treasures. The cellar holds an extensive wine collection, each bottle specially chosen for its unique characteristics and taste properties.
Love bubbles? The Champagne Bar situated in a dedicated and relaxed area of the Gallis Bar - and from May also available at the Sky Bar - is where you can have some serious fun. Choose from a selection of more than a hundred rare vintage champagne labels accompanied by caviar, oyster choice and the creations of our Executive Chef Savio Perna .
Would you like to find out how to recreate the culinary magic you enjoyed in the luxury Li Galli Restaurant just a few nights' prior? During a master class with a professional chef from our renowned Li Galli Restaurant, you will not only learn how to prepare, cook and plate traditional dishes, but you will also delve into the cultural heritage and origins of Campanian cooking traditions.
There are few more romantic places on Earth to exchange vows than under the shining stars on our rooftop terrace. With a capacity of just 30, this outdoor venue is well-suited to intimate ceremonies among close-knit friends and family.
The rate shown represents the classic room per night. All prices are on request and tailor made.
Enjoy the local area
With an enviable address on Viale Pasitea, HVF Villa Franca could hardly be better situated. The property stands on elevated ground, set somewhere between the cliff tops and sparkling sea, surrounded in all directions by the soul-enhancing topography of the Amalfi Coast. In a land famed for its sublime vistas, the panoramic prospects from HVF Villa Franca's windows, private balconies and terraces, are unparalleled, with sheer cliffs standing to attention over radiant jewel-colored bays.
For those who want sunbathe and swim, Positano's beaches are only a 10-minute stroll away from the five-star hotel, as is the cobbled town center. Guests who want to get out and further explore the terrain can follow cliff-edge trails that hug the jagged precipice, offering staggering sea views. Other nearby coastal destinations, such as Amalfi and Ravello, are just a short daytrip away too.
The main beach in Positano is Spiaggia Grande, which sits directly across from the Li Galli archipelago and attracts a mix of locals and holidaymakers. Just down the coast is the lesser-known Fornillo, a little sliver of paradise sandwiched between a plunging cliff and the Mediterranean
This hotel is conveniently situated in the heart of Positano and can be easily accessed by car, bus or boat. Alternatively, if you would like, the management would be happy to arrange a private transfer directly from the airport.
Driving Directions:
HVF Villa Franca is best accessed via the A3 highway, which stretches from Salerno, south of Naples, all the way to Reggio Calabria. Take the Castellammare di Stabia exit, continuing on to the S.S. 145 then follow the signs pointing toward Positano. You'll approach the town center via Viale Pasitea, where you'll find the hotel at number 318.
Hydrofoil: Between June and October, Metrò del Mare runs hydrofoils, linking Positano with important Campania ports, such as Salerno and Naples.
Bus: From Naples airport, take the Curreri Viaggi bus to Sorrento and from there, a SitaSud bus to Positano.
Facilities
Optional Services

Activity planning
Airport transfers
Beautician
Boat charters
Breakfast
Butler service
Car Rental Service
Chauffeur service
Concierge Service
Cooking class
Hairdresser
House keeping
Laundry service
Massage services
Personal assistent
Personal trainer
Pre-Arrival shopping
Private excursions
Private transfers
Restaurant reservations
Room service
Shuttle service
Taxi

General

Air Conditioning
Bathtub
Breakfast included
Coffee maker
Concierge Service
Elevator
Full use hotel facilities
Hairdryer
Heating
Ipod dock
Massage Table
Minibar
Safe
WIFI
Wine cellar

Entertainment & Experiences

Art gallery
Cooking class
Fitness
Jacuzzi
Limo service
Restaurants
Sauna
Spa
Swimming pool
Water sports
Wine tasting

Outside

Bar
Dining Area
Outdoor furniture
Parking
Rooftop bar
Sun Loungers
Swimming pool
Terrace

Linen & Supplies

Bathroom amenities
Pool Towels
Towels